Varisu trailer: Vijay's film is old wine in the most decorative bottle
Jan 04, 2023 06:04 PM IST
Varisu trailer: Vijay film doesn't seem to offer anything new with him playing the youngest son of a rich, business family.
The trailer of Vijay's upcoming Tamil film Varisu, which is gearing up for release this Pongal festival, was released on Wednesday. Going by the trailer, the plot seems to be about the youngest son of a big family rising to the occasion when their business empire is on the brink of collapse.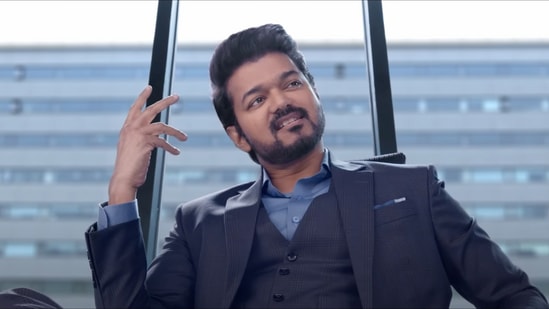 Directed by Vamshi Paidipally, the film marks his maiden collaboration with Vijay, who is also making his Telugu debut with this project as well.
The trailer pretty much reveals the entire plot of the film. It is the story of one big joint family of Vijay and his two elder brothers. Sarath Kumar plays the patriarch, and he takes care of the business empire. The family is targeted when a business rival decides to play dirty, and it is left to Vijay to hold the family together come what may.
Varisu will be the first major Tamil release of this year along with Ajith's Thunivu. Both the films are gearing up for an epic box-office clash. Recently, Varisu producer Dil Raju called Vijay as the bigger star than Ajith in Tamil Nadu.
In an interview to Telugu channel NTV, Varisu producer Dil Raju opened up on the clash with Thunivu. Talking about the clash, he said that Vijay is a bigger star than Ajith in Tamil Nadu. Therefore, his film (Varisu) deserves to get more number of screens than Thunivu.
In the clip, Dil Raju said: "In Tamil Nadu, Ajith sir's film is releasing alongside my film. It is a known fact that Vijay sir is the number 1 star in Tamil Nadu. The state has a total of 800 screens. Right now, both the films are getting equal number of screens. I'm literally begging for at least 50 additional screens for my film because Vijay sir is a bigger star than Ajith."
Fans took to the comment section to call out the needless comment that'll unnecessarily instigate fan wars. One comment read: "Someone from another state creating fans fight between Vijay and Ajith . Please ignore this kind of talk going forward (sic)."
Another comment read: "Why is he even comparing the stars? If Vijay is the bigger star, shouldn't his film automatically be given extra screens (sic)."
Both Varisu and Thunivu are releasing on the same day which is said to be January 12. The makers of both of the movies are yet to officially announce the release date.
ott:10