Kapil Sharma asks Gaur Gopal Das about his discourse on 'girlfriend-boyfriend': Kabhi mohabbat mein pade hain?
Jan 03, 2023 01:17 PM IST
All from hit 90s singers Suneeta Rao, Shweta Shetty, Altaf Raja, Shabbir Kumar to motivational speaker Gaur Gopal Das will be seen as guests on The Kapil Sharma Show's upcoming episodes.
Kapil Sharma is all set to welcome popular singers from the 90s era including Suneeta Rao, Shweta Shetty, Altaf Raja, Shabbir Kumar and a few motivational speakers like Gaur Gopal Das in the upcoming episode of The Kapil Sharma Show. A new promo of the episode shows how Kapil took "extra liberty" while talking to Gaur Gopal Das and how Shweta Shetty talked about a major difference between fans from the new generation and those back in their times. Also read: Kapil Sharma's fans ask 'lota kidhar hai' as he sits in a line with friends. See how his fans did post ka postmortem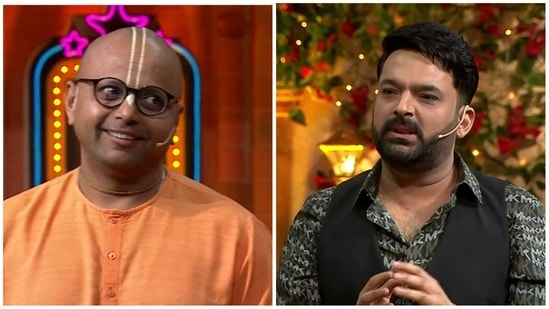 Sony shared the promo on social media with the caption, "Iss weekend raat 9:30 baje, #SonyEntertainmentTelevision par #TheKapilSharmaShow mein gyaan aur music ki hogi bauchaar kyunki aane wale hai motivational speaker aur 90s ke retro singers iss baar! (this time there will be a lot of knowledge and music as motivational speakers and retro singers are coming on the show."
The promo opens with Kapil welcoming Gaur Gopal Das on stage and talking about one of his motivational videos in which he is seen talking about 'girlfriend-boyfriend'. Enquiring him about the same, Kapil asks, "aapko ye student hona ka experience hai ya kabhi mohabbat mein bhi pade hain (you have been a student of this subject or have you ever fallen in love)?" He replied, "Kapil is taking a lot of liberty today."
Kapil went on to ask Shweta Shetty about coming across a crazy fan. She said fans in those days were not at all like that we see today. They were very decent and shy. She went on to hug Shabbir to explain how fans go on to hug their favourite stars without permission while clicking selfies.
Kapil also made fun of how Altaf Raja was glowing a lot during his appearance on the show. He joked that his face seems to have been put in water for long before being peeled for the show.
Shweta Shetty has sung hit songs like Rukmani Rukmani from Roja, Mangta Hai Kya from Rangeela and Tote Tote Ho Gaya from Bichhoo. Suneeta Rao is known for her songs like the hit single Paree Hoon Main and Ab Ke Baras. Altaf Raja is best known for his song Tum To Thehre Pardesi while Shabbir is known for his songs like Jab Hum Jawan Honge from Betaab (1983), Pyar Kiya Nahi Jaata from Woh Saat Din, Mujhe Pineka Shokh Nahin from Coolie and many more.