Mika Di Vohti: Mika Singh chooses Akanksha Puri as his wife during swayamvar, she shows off her mehendi
Published on Jul 25, 2022 11:43 AM IST
Mika Singh has chosen Akanksha Puri as his wife on Mika Di Vohti. The Bachelor-style show will end on July 25 but the finale was shot on July 24.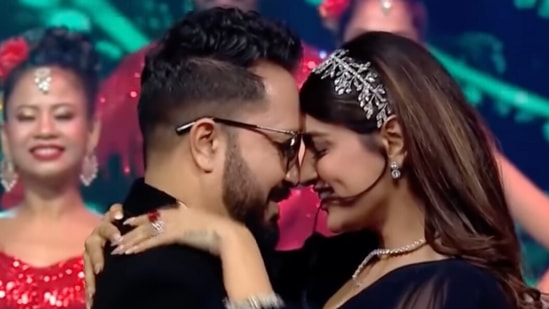 After much deliberation, Mika Singh has finally chosen his wife. The singer reportedly chose Akanksha Puri as his wife on reality show Swayamvar: Mika Di Vohti. The singer made the choice on Sunday after a glitzy finale episode, which will air on Monday, July 25. (Also read: Rakhi Sawant showers boyfriend Adil Khan with roses upon his return)
After Rakhi Sawant and Rahul Mahajan, Mika is the latest celebrity to choose his life partner with a swayamvar/The Bachelor-style show. He had earlier said that he was serious about finding a wife and settling down.
About the finale results, a source told The Indian Express, "While Mika did not marry Akanksha on the stage, he put the wedding garland on her to signify his choice. He shared that he wants to spend quality time with her away from the cameras before they take the nuptial vows. Mika also met Akanksha's family and sought their blessing as he decided to embark on this new journey with her." After the announcement, Akanksha even took to Instagram to show off her henna-decorated hands.
Akanksha was in the running with co-contestants Prantika Das and Neet Mahal. She was Mika's friend for many years but entered the show as wild card after she felt jealous about other girls getting attention from him.
In a March interview with Times of India, Mika said that earlier he was not ready for marriage, because of his work commitments. But after consulting with elder brother, singer Daler Mehndi, Mika felt it was time to settle down. "I was not ready earlier. I have said no to at least 100-150 rishtas in last 20 years, and my work was really important to me," the singer said.
The show is hosted by singer Shaan, who said in an interview with Hindustan Times that Mika is indeed serious about finding a wife. "I am not sure about how serious the earlier celebrities were or were they looking at it just to gain popularity. At this point in life, Mika doesn't need something like this for popularity. Whenever we meet, even during our last meeting, he expressed his wish to settle down. I know he is serious," he said.
Topics
Personalise your news feed. Follow trending topics