All of Us Are Dead season 2 confirmed, Netflix hints at Yoon Chan-young's return; fan says, 'he'll come back, he's alive
Jun 07, 2022 05:40 PM IST
Netflix has announced season two of All of Us Are Dead. The cast members, including Yoon Chan-young, have shared video messages. Watch here.
All of Us Are Dead, Korean zombie apocalypse horror series, will return for a second season, streaming platform Netflix has announced. Taking to Instagram on Monday, Netflix Korea shared a poster and also a clip. The caption read, "Can we survive again? The second story of Hyosan High School friends' fierce zombie survival period begins. <Now at our school> season 2 only on Netflix. #Now our school is #AllofUsAreDead #Netflix #Netflix." (Also Read | Mouse actor Lee Seung Gi denies breakup rumours with girlfriend Lee Da In, reveals why he has been quiet about it)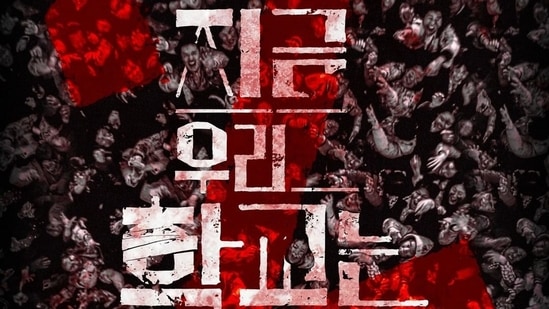 The K-drama is based on the Naver webtoon Now at Our School. The coming-of-age drama follows the lives of students at a high school in South Korea as they try to survive the zombie apocalypse outbreak caused by a failed science experiment. The first season of All of Us Are Dead, consisting of 12 episodes, received acclaim upon its debut in late January.
Reacting to the announcement, a fan wrote, "Season 1 rewatched for 6x, omg, I can't wait season 2." Another person commented, "Season 2??????? oh my god I'm so happy." An Instagram user said, "I wanna cry." "I've never ever been happier," said another person. "And the fact Chan-young reposted it means he's ALIVEEE," wrote a fan.
In season one, the finale was kept open-ended as six students were shown rescued but quarantined by the government. Chan-young was shown getting into a fight with Yoo In-soo and was presumed dead but not confirmed. Cho Yi Hyun was shown as a half-zombie.
On Instagram, The Swoon also posted a video in which the cast shared video messages. Dressed in his school uniform in the show, Yoon Chan-young looked at the camera and said, "Is this on? Is this working? Hello everyone. It's been a while. Thank you to the Netflix fans worldwide for giving so much love to All of Us Are Dead season 1."
Park Ji-hu said, "How are you? We've been doing well. Did you hear the news?" Park Solomon said, "All of Us Are Dead season 2 is confirmed. We hope you also enjoy season 2." Cho Yi-hyun said, "What will happen in All of Us Are Dead season 2? My friends are waiting for me, so I'm going to leave now. See you!"
The video was posted with the caption, "The gang is back for round 2 against the zombies and all of us are hyped. Season 2 of ALL OF US ARE DEAD is coming for you. Only on Netflix." Reacting to the video, a fan wrote, "CheungSan is alive including GwiNam For season 2 because NamRa is as well alive." Another person commented, "Omg!!! he will come back i know he is alive!!!" "Cheongsan my boyyy is backkkk," said another fan.
The show starred mostly newcomers such as Park Ji-hu, Yoon Chan-young, Cho Yi-hyun, Lomon, Yoo In-soo, and Lee Yoo-mi, along with seasoned artists Kim Byung-chul, Lee Kyu-hyung, and Jeon Bae-soo. Yoon Chan-young, Park Ji-hu, Cho Yi-hyun, and Park Solomon will reprise their roles in season two as per news agency PTI.