Finn Wolfhard says he is 'really proud' of his Stranger Things co-star Noah Schnapp for coming out as gay
Feb 02, 2023 04:18 PM IST
In a recent interview, Finn Wolfhard addressed his Stranger Things co-star Noah Schnapp's coming out video from last month, and said he is 'really proud' of him.
Recently, Stranger Things actor Noah Schnapp came out as gay via a TikTok video. Now his co-star from the hit Netflix series, Finn Wolfhard has shared that he is extremely proud of him. (Also read: Stranger Things' Noah Schnapp comes out as gay, says 'I'm more similar to Will than I thought'; fans say 'we knew')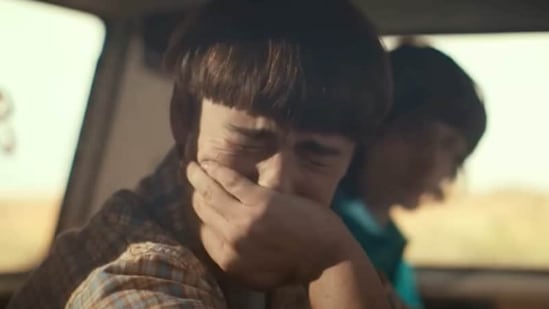 Earlier in January, Noah had posted a TikTok video where he had written, "When I finally told my friends and family I was gay after being scared in the closet for 18 years and all they said was 'we know.'" He captioned the same post, "I guess I'm more similar to Will than I thought." Noah was talking in reference to the Stranger Things character Will Byers, whom he revealed was also gay and in love with his best friend Mike, which played by Finn Wolfhard.
In an interview with GQ, Finn was asked about his friend Noah, where he said, "When I saw it, I just had a big smile on my face... I was just really proud of him." Finn then went on to talk about the equation they share with the process of filming Stranger Things for the past seven years. He also said that they do not necessarily talk every single day but share a deep bond. "We're not on everyday-text vibes in any way... Do you text your cousins every day? Probably not. They're our family. We'll talk on each other's birthdays. We'll talk once in a while. But in the same way that family works, if I ever needed anything, they're there."
The Netflix series Stranger Things will come to an end with its final season, which is set to premiere in 2024. Created by the Duffer Brothers, Stranger Things is a science-fiction thriller set in a fictional US town called Hawkins in the 1980s. The main cast includes actors Millie Bobbie Brown. Noah Schnapp, Sadie Sink, Finn Wolfhard, and David Harbour amongst others. The show's first season streamed in 2016 and the latest (fourth) released in two parts earlier last year. The fifth season is slated to round up the story.