Jehanabad - Of Love & War trailer: Sudhir Mishra brings an intense tale of love, war and revolution
Jan 24, 2023 10:20 AM IST
The new web series Jehanabad: Of Love & War has a love story brewing in the backdrop of a jailbreak, caste politics and violence.
The trailer of Sudhir Mishra's new web series, Jehanabad - Of Love & War, released on Monday and seems to be an intriguing tale of love, anarchy, caste politics and Naxalism. Ritwik Bhowmik plays a college professor in love with his student, played by Harshita Gaur. As they plan to get married, a lot is being planned in the city. While the Naxalites plan a deadly jailbreak to free their commander (Parambrata Chattopadhyay), not all is expected to go well at this wedding. Also read: Jehanabad teaser: Sudhir Mishra's new show on 2005 jail break promises engaging crime-thriller from Bihar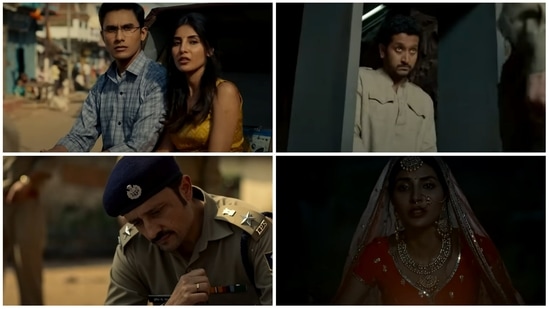 The story is said to be filled with love, loss, betrayal, and ultimately, the resilience of the human spirit.
Created and written by Rajeev Barnwal, the show is directed by Rajeev Barnwal and co-directed by Satyanshu Singh. It stars Ritwik Bhowmik, Harshita Gaur, Parambrata Chattopadhyay, Rajat Kapoor, Suneel Sinha, Satyadeep Mishra, Rajesh Jais, and Sonal Jha in pivotal roles. It is produced by StudioNext with Sudhir Mishra as the showrunner. It will release on SonyLiv on February 3.
Talking about his role in Jehanabad, Ritwik Bhowmik said, "I am more than ecstatic to present a remarkable story to the audience through this show that will surely leave them on the edge of their seats. I believed in the vision of Rajeev and Satyanshu since day one and completely surrendered myself to the world that they have built-in Jehanabad to get into the skin of my character. It was also an absolute pleasure to work with Sudhir sir, as his deft understanding of storytelling helped me improve my craft. We are elated with how the show has transpired and can't wait for the viewers' reception."
Showrunner Sudhir Mishra also said, "Jehanabad – Of Love & War explores the shades of grey in a society that always poses to be righteous. The screenplay has been skilfully weaved with themes of suspense, crime, romance, and revenge, making the show a riveting watch. And the exemplary performances by the cast have worked wonders in bringing the promising story to life in all its glory. It is even more special to bring the show to viewers on Sony LIV who are at the forefront of telling stories that are intrinsically Indian."