Lock Upp: Chakrapani is evicted, an upset Kangana tells him 'You have set a wrong example in my jail'
Published on Mar 07, 2022 09:51 AM IST
Swami Chakrapani was evicted from the reality show Lock Upp on Sunday's episode and Kangana Ranaut slammed him for giving up too easily.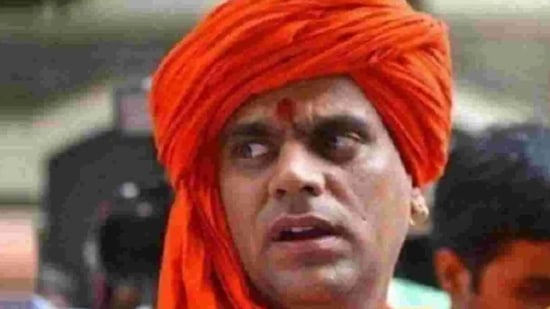 Sunday saw the first eviction of the ongoing reality show Lock Upp and host Kangana Ranaut said that she was upset. Chakrapani became the first contestant on the show to be evicted and Kangana slammed him for his attitude. Chakrapani, Siddharth Sharma, and Anjali Arora were in the bottom three on Sunday's episode of Lock Upp. (Also read: Poonam says she tried to kill herself 'multiple times' due to ex-husband's abuse)
Kangana asked them to go to the 'Benaqaab room' and look at a secret word, and then get back where they were given a secret word. Anjali was shown the word 'Russian' and Chakrapani got 'Radhe'. Siddharth started crying after he saw 'Sports enhancement' written there and Chakrapani had to help him get out of the room. Later, Kangana sent Karanvir Bohra to help Siddharth. Karanvir hugged Siddharth and told him to not worry and just do what he felt like. Even when they stood near the buzzer, trying to save themselves from eviction, Siddharth continued to cry.
Kangana then said that the person who would press the buzzer button first would get a chance to get saved from eviction by sharing their own secret and get safe. After Anjali pressed the buzzer, Kangana asked her to sign a contract before sharing her secret. Anjali then revealed her secret. She said she went to Russia once for a 17-day shoot. She asked for money from someone and in return, she went to a party with the person.
Kangana then said that Chakrapani took no effort to press the buzzer, and asked what was his secret. He said, "It is nothing really. There is no secret as such. I will tell you." However, Kangana stopped him and said, "No, we do not want to hear it now that you did not want to press the buzzer." He said that he did not feel like staying on the show anymore and Kangana told him, "I am the one who gets to decide that."
She said, "I thought of you as the strongest contender. But the day you wrote your name on the charge sheet instead of someone else, I stopped rooting for you. You wanted to go out of jail. You called yourself undeserving. I don't know what you wanted to prove by this sacrificing attitude. This is not how the world works. You have set a wrong example in my jail and Siddarth has also come under your influence. I fear next week he might get out." In his defense, he said, "I like to stay on my own. I have no complaints and no regrets. I have nothing to show off and no one to impress. I am not here to win tasks, I have won enough tasks in my life."
Kangana told him, "Our soldiers are standing in such low temperatures, fighting for the country and you gave up because you could not get cow's milk? You went into a shock in the house and couldn't deal with the difficult situation. Aap haar gaye. Your spirituality didn't work. Aap ne yeh chhote se atyachaar ke samne ghutne tek diye. Aap bahar jaake sehne ki kshamta bhadhaye. (You gave in front of a little bit of torture. Go out and learn to increase your tolerance.)" Chakrapani then took his exit from the show.
Earlier in the episode, Kangana asked why Chakrapani refused to come forward and rescue his team during a task earlier this week. The contestants were supposed to drink milk in the task and Kangana mentioned that Chakrapani had been asking for milk for a while before the task came their way. "You did a wrong thing. It s good to come forward for stuff and say that 'I can do it'. And, you are swami. You have such great knowledge of yoga and you should lead when you are in a team. You are always in this mood, I do not know. You feel like a misfit here. You must not forget that the environment does not make a person bad and wrong, it is the person's own thinking and nature that makes them so. You should support your team in some way - physically, mentally, or emotionally but you are not doing any such thing."
Close Story
Personalise your news feed. Follow trending topics