Cases of fraud on rise, Gurugram police advise caution
Cases of fraud have registered a steady growth in Gurugram, show police statistics. Police officials who have investigated such cases said they target people from all walks of life and of all age groups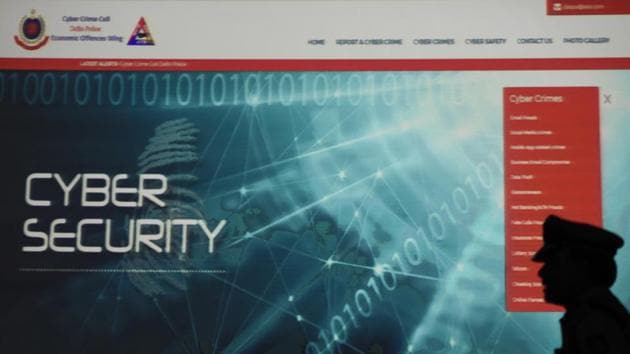 Updated on Sep 17, 2018 04:04 AM IST
Hindustan Times, Gurugram |
, Gurugram
Nikhil M Babu
Cases of fraud have registered a steady growth in Gurugram, show police statistics. Police officials who have investigated such cases said they target people from all walks of life and of all age groups. From young to old, illiterate to educated, persons with odd jobs to those in white-collar jobs — nobody is immune from the fraudsters' tricks, said investigators.
Some of them pose as policemen to dupe people. Some befriend their targets on social networking sites to trap them emotionally while others simply lure them with extravagant rewards into sharing their sensitive banking details.
The Gurugram police registered 1,343 cases of credit card, debit card or banking frauds in 2016. Such cases rose to 1,954 in 2017. This year 1,470 cases have already been registered till August 6.
Similarly, the number of people who were duped by those who had befriended them on Facebook was 151 in 2016; the number rose to 278 in 2017. Till August 6 this year, 249 cases have already been registered in the city.
Police said a number of them have been trapped through active surveillance and local intelligence. Most often they are repeat offenders and once the police registers their modus operandi and their area of action, traps are laid.
Sumit Kuhar, deputy commissioner of police (crime) said units of the Gurugram Police's Crime Investigation Agency (CIA) have been involved in cracking several such cases.
The DCP said online banking frauds committed by gangs who operate out of Jharkhand and West Bengal remained a headache for the police.
He said the police and financial institutions often issue advisories for the people to remain alert against such people. He said if people use secure networks, remain alert, remembers simple dos and don'ts, they can remain safe. As per their modus operandi, these frauds could be broadly divided into the following categories:
Posing as police officers, their most common target are elderly women. They approach them on secluded stretches and tell them that the area is not safe. Then they ask the women to give them their jewellery so that they are safe from snatchers. They often put it in a piece of paper.
"Once the victim puts the jewellery in the paper, the fraud folds the paper. Meanwhile, another member of the gang diverts her attention and the first one swaps the packet," Sandeep Kumar, head of Gurugram Police's anti-snatching unit, said.
By the time the victim realises she has been conned, the gang members are already gone.
On August 14, Sumitra Arora, 56, was out buying vegetables at 10am on Tuesday. As soon as she reached the gate of her colony in Palam Vihar, two people on a motorcycle stopped next to her and duped her of her jewellery.
"They were in Khaki uniform, they were even behaving like cops. They told me they were on patrol," Arora said.
In the last two months, four such cases have been reported from different parts of the city. Two of these cases were registered in a gap of an hour on July 16 in MG Road and a nearby colony.
The gang was earlier called 'Irani Gang', as migrants from Iran were found to be involved in it, DCP Kuhar said.
"One such gang was arrested about a month ago in Delhi. We are tracking the one which is active in the city," Kuhar said. "This is an old technique and different gangs operate in different areas," he said.
Known in police circles as the 'Laddoo Gang', the gang buys a box of laddoos, lace it with sedative and offer it to e-rickshaw drivers. Once they fall unconscious, the gang flees with their vehicles.
On July 8, police arrested one Manish, 23, and his interrogation led to the arrest of two of his accomplices. "The four-member gang targeted only e-rickshaw drivers as they were less likely to file a complaint. Also tracing an e-rickshaw is more difficult than a car or a motorcycle," said Kumar of the anti-snatching unit, who headed the team that nabbed the gang.
Members of this gang work in teams. One team would take an e-rickshaw to a temple while other would follow them. Near the temple, the e-rickshaw driver is offered spiked sweets. Then they would follow the driver, and as soon as he would halt and fall unconscious, they would flee with the vehicle.
Unlike others, "Mutthi Baaz" (fist) gang is particular about their target and location to perpetrate the crime. They target women, preferably elder, and trap them most commonly near bus stands and railways stations.
The gang approaches their target with a bundle of notes with only the top and bottom being the real one and the rest just paper. The bundle is wrapped in a piece of cloth or paper.
The fraudster asks the woman from where he can catch a bus or a train to a particular destination to strike up a conversation. "He tells the woman that he worked as a servant at someone's house but ran away as he was beaten by his employer. Then he says he stole a packet from his house as he was not paid and produces the fake bundle of currency," Kumar said.
At this, another member of the gang joins them. They trick the woman into giving them her jewellery in exchange for the money.
Members of one such gang were arrested after a case was registered in City Police Station in Gurugram on July 14 by a woman. "Initially the woman told us that she was hypnotised. Then as we questioned her further, we found out that the Mutthi Baaz gang was behind it," Kumar said.
On August 22, a 37-year-old married woman registered an FIR at the cyber police station, alleging that she was duped of Rs 1.34 lakh by a man she befriended on a social networking website.
The man made repeated attempts to convince the woman that he was her "true love" and promised to send her Christmas gifts, police said.
The woman, a Sector 57 resident, received a friend request on Facebook from a man, who identified himself as a foreign national, towards the end of last year and, within a couple of days of sending her a request, he took her WhatsApp number and started texting her.
Trusting her online 'friend', she was conned into transferring ₹1.34 lakh in the garb of custom fees, penalty and conversion charges by the man and his accomplices, posing as officials of a courier company, police said.
Investigators said there has been a 55% increase in frauds involving 'Facebook friends' in the city in 2018 till August 6, compared to the weekly average of 2017.
"Credit, debit card and banking frauds" is the head under which cyber crime police in the city receives highest number of online fraud cases. With 1,470 such complaints in 2018 till August 6, the numbers are up by 30% as compared to 2017's weekly average.
The most common way of operation for such cheats is calling up people posing as bank officials and asking them for their credit or debit card. "At least 15 to 20 such complaints are received each week," according to Anand Kumar Yadav, station house officer of Cyber Police Station.
The fraudsters ask for card details, then initiate an online transaction and ask for the OTP (one time password) sent to the victim's phone by the bank. Once the OTP is shared, they transfer money from his/her account.
On July 28, Ramesh Singh, 45, who lives in Pataudi, was getting ready for work when he received a phone call to activate his credit card. "One madam called me and asked for the OTP to activate my credit card," he said, adding that as soon as the phone was disconnected, he lost around ₹10,000.
Of the 2,482 complaints cyber fraud complaints received till August 6 this year, 1,470 or 59.2% were of credit, debit card and banking frauds. Done by gangs operating mainly out of Jharkhand and West Bengal, Kuhar said the only way to stop them is by "not sharing any details over phone, especially OTP".
Topics
Close Story