Gurugram minor rape case: Skeleton of minor raped and murdered recovered after 5 years in Gwalior
Published on Nov 25, 2018 12:06 PM IST
Following a lead given by Kumar, the investigating team managed to recover a girl's skeletal remains in Gwalior on Saturday and her clothes, which were partially burnt and buried near the body. The clothes have been sent for a forensic examination. Kumar had placed a heavy stone at the spot to prevent suspicion, the police said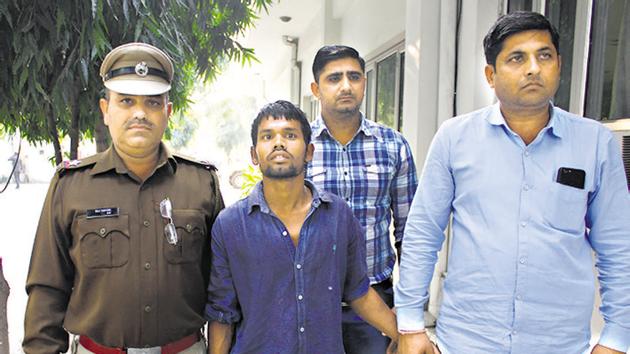 The police on Saturday said that the skeleton of a five-year-old girl, who was allegedly raped and killed by serial killer Sunil Kumar on September 23, 2013, has been recovered in Gwalior near Akhileshwar temple.
After allegedly abducting the girl from a community lunch at the temple , he took her to an isolated place, raped her and subsequently killed her. The local police had registered a case on October 23 that year under sections 361 and 363 of the Indian Penal Code(IPC) at the Kampoo police station.
Kumar, 23, a daily wager, was arrested on November 19 from Jhansi for allegedly raping and murdering a three-year-old girl in Gurugram's Sector 66. He allegedly confessed to the police during interrogation that there were at least 15 other girls whom he had brutalised over the last seven years in Gurugram, Delhi, Jhansi and Gwalior.
Following a lead given by Kumar, the investigating team managed to recover a girl's skeletal remains in Gwalior on Saturday and her clothes, which were partially burnt and buried near the body. The clothes have been sent for a forensic examination. Kumar had placed a heavy stone at the spot to prevent suspicion, the police said.
Dharmendra Kushwah, sub-inspector of Kampoo police station in Gwalior, said the accused man was questioned about it and he led the police to the spot. "We have recovered the skeleton following the lead given by the accused. He had buried her body and clothes some 100 metres away from a temple," said Kushwah.
A police team from the city had taken Kumar to Gwalior on Friday to identify more victims and verify the details given by him regarding other cases. He will be taken to Jhansi on Sunday.
"We have informed the family members of the girl and her blood samples were taken for a DNA test. It takes around 45 days to get the report of the DNA test, but we will try and expedite in this case," said Kushwah.
In another major development, the city police also recovered the clothes that Kumar was wearing at the time of the crime in Sector 66. Thirteen days after the rape and murder of the toddler, the clothes were found from a spot near a temple in village Magarpur along the Jhansi highway on Saturday morning. The police said traces of burnt clothes were also recovered from the spot.
Usha Kundu, assistant commissioner of Gurugram police, said that a CCTV grab showed that the accused had taken several rounds of the area before dumping his clothes and had tried to burn his pair of trousers from where he was arrested. "We are hopeful of solving more missing and kidnapping cases from Delhi-NCR, Uttar Pradesh and Madhya Pradesh. Kumar is involved in more than 20 such cases," said Kundu.
Personalise your news feed. Follow trending topics