Roundabouts have failed Gurugram's traffic test
Updated on Oct 08, 2018 12:45 PM IST
Since 2008, traffic signals have replaced roundabouts on junctions on all arterial roads of Gurugram . Though still congested, these junctions no longer experience gridlocks as traffic signals effectively, even if slowly, clear large volumes of traffic.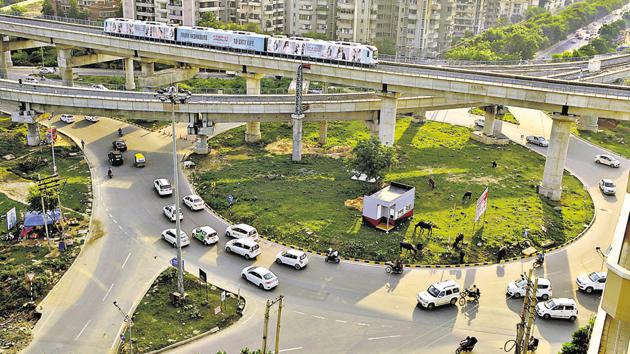 Once considered the 'it' solution for streamlining traffic, roundabouts have fallen out of favour as vehicle density has increased on city roads.
Since 2008, traffic signals have replaced roundabouts on junctions on all arterial roads of Gurugram including HUDA City Centre, Rajiv Chowk, Subhash Chowk, Bakhtawar Chowk, Bristol Chowk, Genpact Chowk and Maharana Pratap Chowk. Though still congested, these junctions no longer experience gridlocks as traffic signals effectively, even if slowly, clear large volumes of traffic.
Today, roundabouts remain only at three key junctions—AIT Chowk, Atul Kataria Chowk and Rezang La Chowk.
Road design experts attribute this near extinction of roundabouts in the city to multiple factors, but concur that the prime cause is a realization among authorities that these structures are unable to streamline heavy traffic.
"A roundabout can disperse approximately 20,000-25,000 vehicles daily. At several key junctions, the traffic density today is far higher and can exceed 40,000 vehicles a day. Hence, due to its poor carrying capacity, snarls near a roundabout are a common occurrence," said Sewa Ram, an urban transport systems design expert and faculty member at the School of Planning and Architecture (SPA). He is also compiling a transport mobility plan for the Gurugram Metropolitan Development Authority (GMDA) to decongest key stretches.
Sarika Panda Bhatt, the technical adviser of Haryana Vision Zero, a road safety initiative of the Haryana government, said that part of the reason why these structures became ineffective in Gurugram was "poor planning".
"Roundabouts across the city were built without planning for the future or keeping in mind the population growth," Panda said, adding that Gurugram's population grew 74% between 2001 and 2011.
She added that at several points, the poor designing of the roundabouts led to them being too narrow for accommodating vehicles from different directions and distributing them. "Hence, instead of being a solution, these, over time, became a hindrance, especially once the city saw rapid urban expansion in the early 2000's, which led to (authorities) closing many exits of roundabouts at various places," she said.
A case in point is the AIT Chowk where traffic from Golf Course Road converges with that from Gurgaon-Faridabad Road and Sector 56 at a narrow roundabout.
The junction has become particularly susceptible to congestion in the past two years due to increased traffic. While traffic movement was eased by multiple underpasses being constructed along the length of the road, these vehicles now converge at the AIT roundabout resulting in gridlocks which take hours to clear.
On August 3, the congestion at this roundabout led to traffic backlog on Golf Course Road that lasted for 6 hours. Prior to that, on March 10, snarls at the roundabout led to congestion in the area that took four hours to clear. The gridlock extended up to 3km on both occasions.
Recognising this problem, road safety experts have suggested three solutions to the problem in the Gurugram traffic mobility plan being compiled by the GMDA. One, expansion of the roundabout, second is construction of a U-turn underpass and third, erecting a traffic signal.
While a decision is yet to be taken on which of these solutions would the GMDA adopt, the Gurugram police, in the past week, blocked certain exits during the morning and evening rush hour. Although the change—blocking exit to Sector 56 for commuters coming from Golf Course Road and Gurugram-Faridabad Road—has reduced the vehicular density at the roundabout, it is yet another sign of how Gurugram's old traffic structures have become redundant.
Engineering changes are also afoot at the Atul Kataria Chowk.
The Public Works Department (PWD) is constructing an underpass and a flyover by felling 40 trees in the area. These engineering changes are part of a larger plan to reduce congestion there, which will render the Atul Kataria Chowk roundabout of no use.
At the Rezang La Chowk roundabout, however, officials said there is no plan to initiate any engineering change as of now due to the low volume of traffic. Experts, however, were apprehensive about its continued effectiveness, citing the falling popularity of roundabouts in India and across the globe.
"The US was always hesitant to adopt roundabouts on its roads and relied on traffic signals instead. Even in the United Kingdom, where the concept of roundabouts was widely regarded as an efficient traffic solution, there has been a downward trend over the last decade, with traffic lights taking preference over roundabouts," Sewa Ram said.
Even as authorities undertake expensive infrastructure projects at these roundabouts to streamline traffic, GMDA chief V Umashankar refused comment on the removal or feasibility of roundabouts until the transport mobility report was submitted.
"Until the draft is submitted by experts regarding traffic and transport mobility, I can't make any comment," Umashankar said.
Close Story
Personalise your news feed. Follow trending topics