EMS: How good is this new short-cut to weight-loss?
Updated on Dec 08, 2015 02:06 PM IST
Many of those looking for quick results when it comes to losing weight are opting for Electrical Muscle Stimulation (EMS). Experts tell us more about this weight-loss technique and its side effects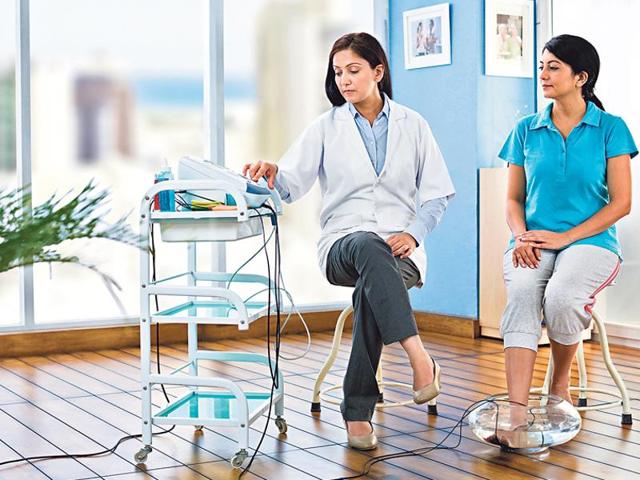 In this fast-paced life, sometimes, the need for quick results and instant gratification drives people to employ newer and more innovative approaches. However, when it comes to health and fitness, where does one draw the line?
These days, many people are opting for Electrical Muscle Stimulation (EMS) to get back in shape. While EMS has been around for some time and serves as an effective tool for physiotherapy, it is now gaining popularity as a muscle-strengthening tool too, among fitness trainers.
"EMS is an electrical mode of stimulation of motor end plate, thereby keeping a paralysed or partially paralysed muscle active. However, in recent times, people without any ailment are using this treatment to keep their muscles active and toned," says Dr Prakash Doshi, director of trauma and orthopaedics, Nanavati Super Speciality Hospital, Vile Parle (W).
In simple words, EMS delivers a painless current through the patient's skin to specific nerves, to elicit a muscle contraction, thereby causing muscle twitching. This way, a local massage is created facilitating better 'local blood flow'.
Doctors do not prescribe EMS except for physiotherapy to patients with specific paralytic conditions. Dr Rahul Shah, orthopaedic surgeon, Bhatia Hospital, Grant Road, says, "The purpose and effects of EMS otherwise [for non-medical conditions] can only be proven by an authorised and randomised control study or a meta-analysis. However, till date no such study has been published."
Read: Want to lose weight? Try breaking emotional connect with food
Read: Obese? Fat chance you have sex drive
No pain, no gain
Most of the doctors agree that there is no short-cut to fitness. They warn us of the following potential side effects of EMS:
1. Even though you can keep muscles active and toned, there is a danger of muscle degeneration, which can lead to early atrophy
2. It can increase anaerobic metabolism, thereby, increasing lactic acid levels, which can be dangerous for cardiac patients
3. It can cause burns and skin allergies due to the electrodes.
Who should avoid EMS?
Fitness trainers and medical experts both agree that the following category of people should strictly stay away from EMS:
* Pregnant women
* People with pacemakers or any metal in the body (tooth fillings are exceptions)
* Those with neurological problems
* Diabetics
* Patients with impaired sensation, skin irritation, open wounds or blood clots.
(With inputs from Dr Kushilab Bose, chief-medical operations, Healthspring)
TRAINER TALK
"I was introduced to EMS three years back (2012) at a fitness expo in Germany. I went back with my team of dieticians, surgeons, physiotherapists, trainers, and marketing people to learn more about and understand this concept. We wanted to be sure that this is not a marketing gimmick, or offers a placebo effect. We wanted to know if it is truly effective. It is after a lot of careful research that we have finally introduced it as one of our services.
The minimum time needed for an EMS session is 20 minutes, once a week. The prescribed minimum age is 15, there is no upper limit. The time of the session can be increased as per one's fitness level, interest, regularity and affordability.
EMS is self-sufficient, but can be combined with other forms of exercise too. However, I highly doubt if one can manage combining the two. I work out a lot, and I found out that after a 20-minute session, I was not up for working out in the gym the next day. My body was not ready for it," says Prashant Talwalkar, managing director and chief executive officer, Talwalkars Better Value Fitness.
Close Story
Personalise your news feed. Follow trending topics