Dave Bautista just revealed an Avengers 4 spoiler, is ready to reveal more
Dave Bautista, who threatened to quit the Marvel Cinematic Universe over the firing of James Gunn, has revealed a spoiler for Avengers 4, and until such time as someone tells him to stop, is fine with talking more about it.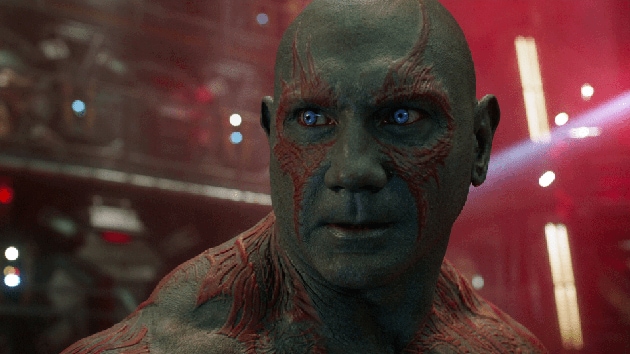 Updated on Sep 02, 2018 05:57 PM IST
Dave Bautista is having a difficult relationship with Disney and Marvel. The actor has been vocal in his criticism of the Mouse House in their firing of Guardians of the Galaxy director James Gunn, and now he's been nonchalantly revealing spoilers about the upcoming Avengers 4.
In a new interview to Good Morning Britain, the Drax actor said that he wasn't supposed to tell anyone that the Guardians of the Galaxy would be returning - with more screen time - in Avengers 4, but since no one stopped him, he's comfortable talking more about it.
"We definitely see more Guardians in the upcoming Avengers, which we've already shot," he said. "Oddly enough, I guess I wasn't supposed to say anything, but I was already saying before Avengers 3 was released that I had already filmed [Avengers 4] and I was signed up for Guardians 3. So I must come back somehow. ...It's comforting, but at the same time I felt a sense of guilt because I don't know if I was supposed to say anything. And nobody told me not to say anything."
The reason why Bautista is apprehensive is because the Guardians all perished at the end of Avengers: Infinity War, but by now it is the worst kept secret in town that they, and the other dead Avengers, will somehow be brought back in Avengers 4. In fact, Guardians of the Galaxy Vol 3 was in pre-production when Gunn was fired for tweeting offensive jokes a decade ago.
Bautista has strongly criticised Gunn's firing, and has gone so far as to condemn Disney and threaten to quit the franchise if they also discard Gunn's script for the film, which he'd turned in just weeks before his ouster.
The latest news suggests that Disney is putting Guardians 3 on hold until they secure a replacement director. The cast is all locked under tight contracts so they have no rush, and no release date to meet.
But Bautista feels that Gunn's firing could affect how the Guardians are portrayed in Avengers 4. Gunn reportedly wrote some of the Guardians scenes in Infinity War. "It's on permanent hold for now," Bautista told DigitalSpy, referring to the third Guardians film, "and that may make a difference in what they do with our characters in Avengers 4. To be honest with you, right now I really don't know," he said. "But I know I'm in Avengers 4. I've shot most of it already. I do have two days of reshoots. But other than that, I have some really great scenes that I hope they use. But I guess that it remains to be seen what they'll do with the characters."
Avengers 4 has been scheduled for a May 2019 release, and directors Joe & Anthony Russo in a recent interview said that they'd be heading into reshoots this month, and expect to lock the film by March.
Follow @htshowbiz for more
Close Story