Rogue One: A Star Wars Story is in trouble and Disney is not happy
Rogue One: A Star Wars Story, the first in the Star Wars anthology series of films is in trouble. New reports suggest that the film is not in good shape and Disney has ordered a month of 'expensive reshoots.'
hollywood
Updated: Jun 01, 2016 12:53 IST
Rogue One: A Star Wars Story, the first in the Star Wars anthology series of films is in trouble. New reports suggest that the film is not in good shape and Disney has ordered a month of "expensive reshoots."
According to insiders, the movie failed to impress the execs at Disney and has been ordered to go back into four weeks of expensive reshoots in July, reports Page Six.
Read: First Rogue One: A Star Wars Story trailer is out! We are all rebels now
Director Gareth Edwards, who recently backed out from directing Godzilla 2 to focus on smaller movies has allegedly fallen short of what JJ Abrams did with Star Wars: The Force Awakens.
As per the sources, the filmmaker and actors always anticipated the additional reshoots intended to "make the film the absolute best."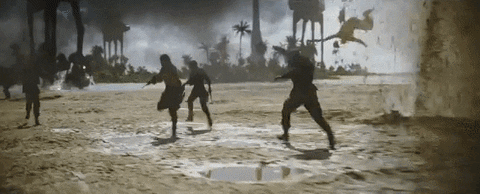 The movie is reportedly set at a time between the events of Episode III and Episode IV and is about resistance fighters who embark on a mission to steal plans for the Death Star before it can be used by the Emperor's cruel regime.
Read: Oh no, Suicide Squad is as grim as BvS and everyone's panicking: Reports
The film stars Felicity Jones, Mads Mikkelsen, Ben Mendelsohn, Forest Whitaker and Diego Luna. It will arrive in theatres on December 16.
Follow @htshowbiz for more