PM Modi engages private sector for job creation
Finance minister Arun Jaitley and top secretaries to the government will also attend the upcoming sessions.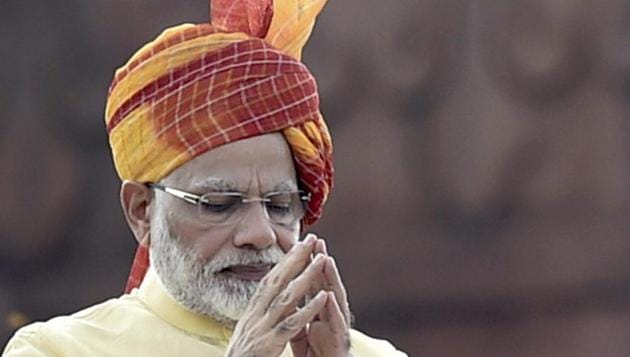 Updated on Aug 16, 2017 06:21 PM IST
In a major step towards involvement of the private sector in government decision making, Prime Minister Narendra Modi will be interacting intensively with 400 young chief executive officers and professionals in Delhi on Thursday and next Tuesday with an eye towards job creation, income enhancement, technology disruption and innovation, ease of doing business, and good governance and policy.
The young CEOs put forward their action plans before the government on Wednesday with comprehensive presentations on designated topics to me made before PM Modi on Thursday.
Finance minister Arun Jaitley and top secretaries to the government will also attend these sessions.
Documents accessed by the Hindustan Times said after PM Modi sees all the presentations on August 22, the NITI Aayog has been tasked to cull out action points emerging from these deliberations. In consultation with the concerned ministries, the government will prepare requisite notifications for executive actions, bring out policy notes to tweak the guidelines as per requirement and the NITI Aayog has been tasked to take up the issues with the states where the latter's intervention is required.
Seen as the first major initiative involving CEOs below 45 years of age under the 2022 New India mission, PM Modi will be devoting his entire Thursday to hear from these young professionals on topics such as Digital India: Reaching the last mile; Energizing a Sustainable Tomorrow, Health and Nutrition,Education and Skill Development and Soft India, and Incredible India 2.0.
"For the past 15 days, young CEOs after discussing with their senior management are parked in Delhi to make the presentation before the PM. Six groups of 30 CEOs each have been made to make presentations in a bid to transform India," said a senior official.
Called "Champions of Change: Transforming India through G2B partnership", another batch of CEOs will engage with PM Modi next Tuesday on topics such as Make in India; Cities of Tomorrow: World Class Infrastructure; Doubling Farmers Income; Fixing Finance: Reforming the Financial Sector. All these topics are part of the 2022 New India mission which was announced by PM Modi from the ramparts of the Red Fort on August 15.
"Interactive session between PM and a group of highly motivated, dynamic, young and progressive entrepreneurs of the private sector who have demonstrated a passion for transforming India and are emerging as champions of change," NITI Aayog CEO Amitabh Kant wrote in a letter on August 8 inviting the young CEOs.
As one senior secretary put it PM Modi was seen meeting only the global CEOs in the past but now he has invited the young entrepreneurs to use their skills to change India.
Close Story