PM Modi on 'productive' Germany visit, G7 summit: 'Global well-being...'
Jun 28, 2022 10:41 AM IST
G7 summit: PM Modi met US president Joe Biden, Canada leader Justin Trudeau among other world leaders during the G7 summit.
Prime Minister Narendra Modi on Tuesday tweeted that he was departing from Germany after a "productive visit" to the European nation where he attended the G7 summit. He is set to visit the UAE next. On Twitter, he thanked the country for the hospitality. "I thank the people of Germany, @Bundeskanzler Scholz and the German Government for their hospitality during the entire visit. I am confident India-Germany friendship will scale newer heights in the times to come."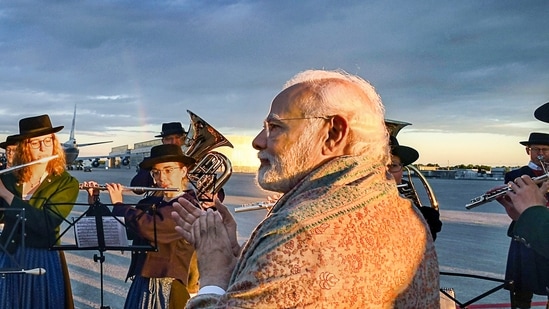 "Leaving Germany after a productive visit in which I attended the @G7 Summit, interacted with several world leaders and participated in a memorable community programme in Munich. We were able to discuss many issues aimed at furthering global well-being and prosperity," PM Modi said in a tweet. "We were able to discuss many topics aimed at promoting global well-being and prosperity." He also shared similar posts in German.
In the last two days, PM Modi met several world leaders, including US president Joe Biden, France's Emmanuel Macron, Canada's Justin Trudeau, among others.
He also held discussions with German chancellor Olaf Scholz. "This was the second meeting between two leaders this year; the previous meeting took place during PM's visit to Berlin on 2 May 2022 for the India-Germany Inter-Governmental Consultations. Prime Minister thanked Chancellor Scholz for the invitation to the G7 Summit," a government statement said.
"Continuing their discussions from last month, the two leaders emphasized the need to take forward their Green and Sustainable Development Partnership. Discussions covered issues like climate action, provision of climate financing and technology transfer. Both leaders also agreed on the need to further deepen trade, investment and people to people ties," it added.
In the UAE, PM Modi will "pay his personal condolences on the passing away of H.H. Sheikh Khalifa bin Zayed Al Nahyan, the former UAE President and Abu Dhabi Ruler," an official statement had earlier underlined. "PM will also take the opportunity to congratulate H.H. Sheikh Mohamed bin Zayed Al Nahyan on his election as the new President of UAE and Ruler of Abu Dhabi," it added.