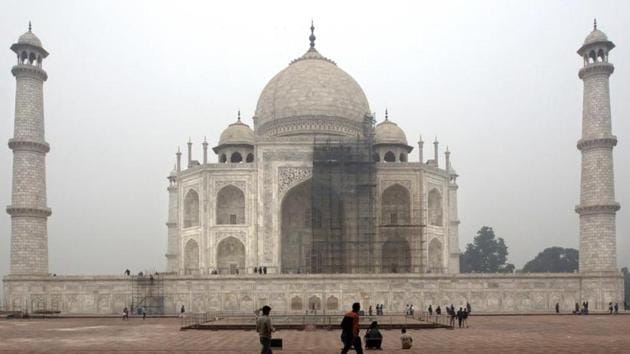 Supreme Court demands answers from UP govt on Taj Mahal protection efforts
The Supreme Court has also ordered the Yogi Adityanath government to produce a "vision document" outlining its plan for protecting the wonder of the world within four weeks.
Agencies, New Delhi | By Agencies
UPDATED ON FEB 08, 2018 05:48 PM IST
The Supreme Court on Thursday demanded a detailed plan for the future of the Taj Mahal, warning the Uttar Pradesh government's "ad hoc" approach jeopardised the centuries-old monument to love.
Smog has been slowly yellowing the Taj's brilliant marble and conservationists have long fought to close polluting industries near the 17th-century icon.
But years of interventions — including using mudpacks to draw the stain from the stone — have failed to arrest the slow decay of India's biggest attraction.
The Supreme Court has ordered the state government to produce a "vision document" outlining its plan for protecting the wonder of the world within a month.
In particular the court expressed concern about a "sudden flurry of activities" in the Taj Trapezium Zone — a buffer around the monument to protect it from pollution.
"Leather industries and hotels are coming up there. Why?" the court asked, describing the government conservation plan for the Taj as ad hoc and inadequate.
Meanwhile, the state government filed a separate application for cutting 234 trees for laying pipelines for water supply in Agra city.
The bench, however, directed the state to apprise it as how many tress have already been planted in the TTZ and posted the matter for hearing after four weeks.
The Taj faces numerous threats, from air pollution to insects that leave green stains on the rear wall facing the heavily polluted Yamuna River.
Nearly 6.5 million people marvelled at the monument in 2016 but the government in January announced plans to cap visitor numbers to reduce wear and tear.
Anyone wanting to see the main crypt, which houses the couple's spectacular marble graves inlaid with semi-precious stones, will also have to pay for a pricier ticket.
Building restoration has dragged into a fourth year, leaving scaffolding clinging to the exterior, with work yet to even begin on its imposing dome.
The Taj Mahal was built by Mughal emperor Shah Jahan as a tomb for his beloved wife Mumtaz Mahal, who died in childbirth in 1631.
The Taj has attracted world leaders and royalty, including former US President Bill Clinton. Diana, the late British princess, was famously photographed alone on a marble seat there in 1992.
Close