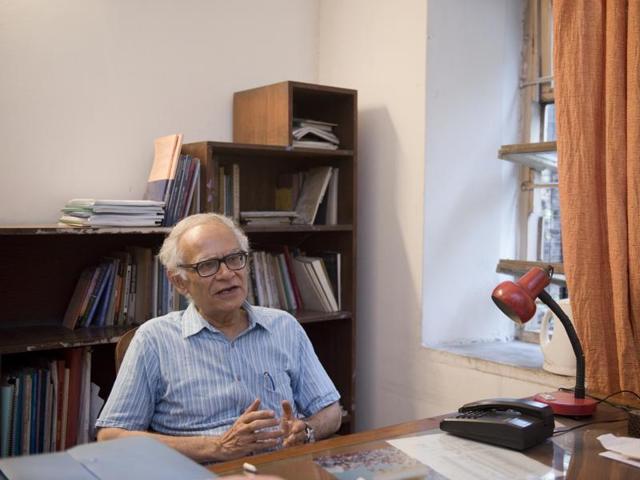 'Teachers' career, status and self-esteem badly mauled in this country'
Ahead of Teacher's Day on September 5, Krishna Kumar, professor of Education, Delhi University and former director National Council of Educational Research and Training, spoke to HT about the reasons behind the current crisis in the teaching profession, and a few measures to resolve it
UPDATED ON SEP 04, 2016 08:59 AM IST
On the eve of Teacher's Day on September 5, Krishna Kumar, professor of Education, Delhi University and former director National Council of Educational Research and Training, spoke to HT about the reasons behind the current crisis in the teaching profession, and a few measures to resolve it. Excerpts:
To fulfil the norms of the RTE, estimates suggest that India needs 1.3 million teachers. And we are only talking about the elementary schools, not including pre-schools. At the secondary and the senior secondary level, the crisis is equally serious, but there are no accurate estimates about the requirement of teachers, particularly the need for specific subject teachers at that level. In fact, many schools, including Kendriya Vidyalayas and several reputed private schools, don't even offer major subjects in the social science stream. In the university system too, a vast number of posts are vacant for more than two decades. Lakhs of vulnerable ad hoc teachers are serving against these vacancies.
There are huge delays in recruitments — primary teachers selected by the Delhi Subordinate Services Selection Board in 2012, got their appointments this year. You can imagine what this delay might mean to the candidates. Imagine this happening to an officer selected in the IAS exam. Would s/he have the same motivation? After all, both teachers and IAS officers are civil servants. The Minister for HRD has said that all vacancies for teachers will be filled up in the next five years. This means that a child who is in Class 1 at this moment and doesn't have a Maths teacher, will need to wait until he is in Class 5. Can you imagine what that delay might mean to the child?
In some states, appointments of regular teachers have almost stopped. Teachers are being hired on contracts ranging from 4-11 months. States have been doing this apparently to save funds. In Delhi alone, there are more than 12,000 vacancies, which is a modest estimate. The crisis is equally bad in our public universities, where thousands of vacancies have not been filled up. A teacher is someone who gains from the experience of working with young people. How can one expect commitment from someone who is hired for a short while and is facing chronic uncertainty? Teaching used to be a career, until the late '80s and '90s, but now our brightest young people want to avoid this profession as they know how vulnerable it is.
Nearly 90 per cent of teacher training institutes are now in the private sector. A new kind of post-liberalisation inspector raj governs them, with rampant corruption. There's pervasive commercialisation in this sector and little room for quality concerns. The National Council Teacher Education (NCTE) itself is without a Chairperson and a Vice Chairperson. It has not been reconstituted for a long time. The Justice Verma Commission had recommended the creation of an academic wing in NCTE, but that hasn't been set up yet.
Another committee appointed in the wake of the Verma report presented the proposal for the creation of a platform for coordination between NCTE, UGC and other bodies. Nearly two years have passed, but the Ministry of HRD has done nothing about it. Justice Verma Commission had recommended improvement in the NCTE Act. The committee set up to draft the revised Act has not completed its work, but its meetings stopped nearly two years ago. One ray of hope is two-year B. Ed program that began last year, replacing the traditional one-year program.
Restoring professional dignity has to be top priority. This is not easy, considering how much damage has been done over the recent decades by misplaced priorities and wrong policies, particularly in the matter of recruitment and service conditions. We need to address the shortage crisis by devising better and quicker ways of recruiting teachers. We also need to radically improve the working conditions of teachers. The NCTE needs major financial grants from the HRD ministry if it is expected to fulfil the expectations aroused by the Justice Verma Commission
Close