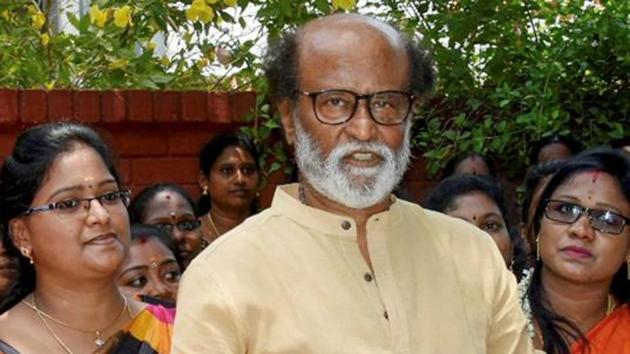 Will you eat lizard in certified food, AIADMK asks Rajinikanth over criticism of Sarkar protests
Rajinikanth had on Friday condemned the protests carried out by AIADMK activists. "Even though the censor board has certified and allowed to screen a movie, it is highly condemnable and illegal to hold protests against screening that," he said in his tweet.
Hindustan Times, Chennai | By M Manikandan
UPDATED ON NOV 11, 2018 12:07 AM IST
Tamil Nadu's ruling All India Anna Dravida Munnetra Kazhagam (AIADMK) on Saturday slammed superstar Rajinikanth for condemning protests by party activists against some scenes in actor Vijay-starrer Tamil movie Sarkar allegedly depicting former chief minister Jayalalithaa and her flagship schemes she had started.
Attacking Rajinikanth, the AIADMK's mouthpiece 'Namadhu Puratchi Thalaivi Amma' said that only a censor certification would not justify the controversial scenes. "If you identify a lizard in a packed food item that has all the certifications, will you eat or throw it away," said a write-up in the party's daily.
Among the scenes that had angered the AIADMK workers were one showing an actor throwing a mixer-grinder into fire, which was seen as an obvious reference to the late Jayalalithaa's flagship schemes of providing these items free of cost, in line with an electoral promise in 2011.
They had also protested a negative character named Komalavall, which party workers thought was a reference to Jayalalithaa's original name.
As the AIADMK workers tore the movie banners and started sit-in protests in front of theatres screening Sarkar, which released on Diwali on Wednesday, the film-makers agreed to three changes, removing the scene objected to by AIADMK and muting two words including the name Komala.
Rajinikanth had on Friday "strongly condemned" the protests carried out by AIADMK activists to demand deletion of scenes.
"It is against the law to hold protests seeking removal of some scenes from a Censor board certified film and trying to stall the screening and damaging the banners," he tweeted.
"I strongly condemn these," he added.
The write-up in the AIADMK mouthpiece came in response. It also urged Rajinikanth not to support such activities and asked him to advise his juniors in the industry not to repeat these mistakes.
While the movie attacked the freebies scheme, the AIADMK has defended the scheme, saying it was brought to bridge the gap between poor and rich in the state.
"Vijay, director (AR) Murugadoss and Maran brothers who produced the movie could not expect freebies. But, thousands of poor people in the state are being benefited by these schemes. Amma canteens are the boons to the people who are stepping into Chennai...," the article reads.
Chief minister Edappadi K Palaniswami also claimed that common public was also protesting along with AIADMK workers against Sarkar.
"If someone was making a film against the government's schemes and leaders, how their followers will remain calm," he asked, alleging some filmmakers are using this trick to increase their business.
"They are producing the films by spending several hundred crores. Where they are getting this money? Despite getting a huge sum of money as salary, actors are not coming out to serve the poor," Palaniswami said.
He also claimed Murugadoss's relatives too benefitted from the freebies schemes of the Jayalalithaa government.
Close