Wrestlers stir: Mary Kom to head panel on sex abuse probe against WFI chief
Jan 23, 2023 05:27 PM IST
The oversight committee will run the daily affairs of the wrestling body for the next one month and assess the allegations against Brij Bhushan Sharan Singh, who was asked to step aside as the WFI chief last week.
Boxing great MC Mary Kom is set to lead a five-member oversight committee to run the day-to-day affairs of the Wrestling Federation of India (WFI) and supervise the probe into the sexual harassment charges against its president and BJP Lok Sabha MP Brij Bhushan Sharan Singh. The committee will run the daily affairs of the wrestling body for the next one month. Brij Bhushan Singh was asked to step aside as the chief till the probe concludes.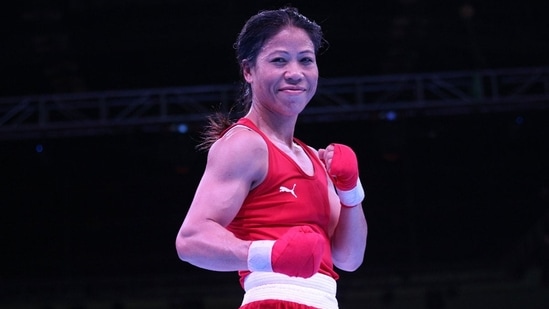 The announcement was made by Union Sports Minister Anurag Thakur. Other members of the panel include Olympic medallist wrestler Yogeshwar Dutt, former badminton player and Mission Olympic Cell member Trupti Murgunde, ex-TOPS CEO Rajagopalan and former SAI executive director of teams Radhika Sreeman, a statement tweeted by news agency ANI highlighted.
Read more | Amid sexual harassment allegations, Centre suspends all activities of WFI
"Oversight Committee has been formed today. Mary Kom will head the Oversight Committee. For the coming month, the committee will investigate the allegations put up by the wrestlers," Thakur told the media in Jabalpur, Madhya Pradesh, as quoted by news agency ANI.
The committee was formed in the aftermath of a wrestlers' protest last week at Delhi's Jantar Mantar, led by world champions and Olympic medalists, including Vinesh Phogat, Bajrang Punia, Sakshi Malik and Ravi Dahiya and others.
Phogat, during a press meet last week, made startling allegation that "women wrestlers have been sexually harassed at national camps by coaches and also the WFI president Brij Bhushan Sharan Sharma". "Some of the coaches appointed at national camps have been sexually harassing women Wrestlers for years. The WFI president is also involved in sexual harassment. Many young women wrestlers have complained and cried about being sexually harassed at national camps," she had said even as Singh denied the allegations.
Read more | 'If happened will hang myself...': WFI chief on Phogat's sexual harassment claim
On Saturday, Anurag Thakur announced the formation of the committee following three days of the wrestlers' protest. Thakur said that the government had heard from all wrestlers on allegations of sexual harassment against the WFI president and coaches
Meanwhile, the government has suspended WFI official Vinod Tomar and has also suspended all activities till the wrestlers' claims are investigated.