Govt is neglecting us, say silicosis patients at public hearing in Jaipur
Updated on Aug 08, 2018 10:16 PM IST
A public hearing for more than 1,000 silicosis patients from nine districts of the state in Jaipur on Wednesday highlighted the alleged apathy towards them by the state government.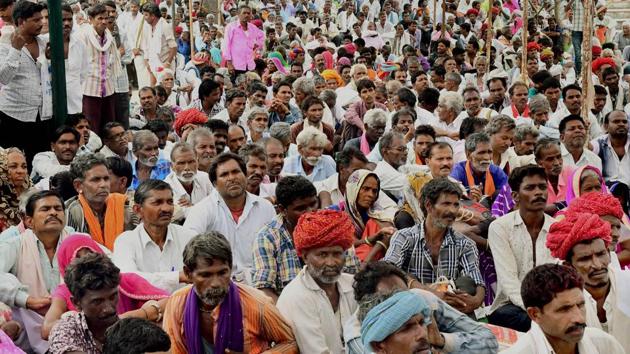 Hindustan Times, Jaipur |
Jaykishan Sharma
A public hearing for more than 1,000 silicosis patients from nine districts of the state in Jaipur on Wednesday highlighted the alleged apathy towards them by the government.
Many of the patients, who had gathered at Shaheed Smarak near the Collectorrate, said that it was a "very tough task" to get a silicosis confirmation certificate from the Pneumoconiosis Board; even if the certificate was released, it was often a long wait before the government released the compensation money to them.
Nainu Devi, 45, one of the many patients who had arrived from Asind tehsil in Bhilwara district, said she was certified by the Pneumoconiosis Board last year on July 17, but her compensation money was released yet. "I have been making countless rounds of government offices, but the only thing I have got till now is assurances. Babus (officials) always say 'ho jayega apka kam' (your work will be done). My health is worsening day-by-day. To fulfil the basic household expenditures, I have taken loan of thousands from the local lenders on high interest. This compensation money can solve my many problems," Devi told HT.
Roopa Devi Bheel, 58, of Bhilwara district, said that even three years after the death of her son in 2015, she hasn't received a single penny from the government. A grandmother of five, Bheel works as a labourer to earn ₹150- ₹200 a day. "We barely have any money to feed ourselves. None of my grandchildren currently go to school. My husband is 65 years old. I have all the documents, but so far our family has received nothing from the government as compensation," said Bheel.
The state government currently offers ₹1 lakh relief to the people diagnosed with silicosis and ₹3 lakh to the relatives of those succumb to the disease.
According to data collected by a team of Suchna Evum Rozgar Ka Adhikar Abhiyan, more than 15,000 labourers working in various mines across 16 districts in Rajasthan have been diagnosed with silicosis. And more than 200 have lost their lives in the past three years.
Kelaram, 33, resident of Sabela village under Pindwara tehsil in Sirohi district, said, "I have been working in mines for last 10 years. I cannot speak properly because of poor lung function. Because of this disease, at this young age, I cannot walk more than 200 metres on a consistent basis. I feel from inside that I am dying and I have not got support of a single rupee either from mine owners or government."
Aruna Roy of Mazdoor Kisan Shakti Sanghatan (MKSS) said, "The work of these labourers had made possible the building of impressive modern infrastructures. However, the labourers themselves lose their very lives in the work. This is a shameful situation that silicosis patients are struggling to get their basic demands. Either government should ban mining completely or it should provide immediate relief to the workers. We don't want development at cost of people's life."
Meanwhile, a memorandum was also submitted by Suchna Evum Rozgar Ka Adhikar Abhiyan to the chief secretary of Rajasthan making various demands. The various demands are: Put the silicosis patients in national and state list of disabilities; give them disability pension; BPL and labour card for silicosis patients; special ward in every district hospital for treatment of silicosis; amendment in disabilities act and district mineral foundation rules, monitoring of builders and mine owners among other things.
Silicosis patients from Jodhpur, Karauli, Sirohi, Chittorgarh, Ajmer, Rajsamand, Dhaulpur, Bhilwara, and Jaisalmer assembled at the venue.
After the public hearing, representatives of the rights groups, led by social activist Nikhil Dey, met the chief secretary, state human rights commission chairperson Justice Prakash Tantia and principal secretary for mines Aparna Arora, at the secretariat.
"The state human rights commission on Wednesday has assured us that they will hold public hearings in the silicosis-affected areas, beginning with tehsils having maximum pendency of compensation cases," said Vikas Singh, one of the delegation members.
The chief secretary and principal secretary for mines have also assured the panel that a meeting of all departments will be called in August end to discuss and solve all the issues related to labourers, Singh added.
Topics
Personalise your news feed. Follow trending topics