Hydration vs moisture: What are the differences, and which do you need?
Jan 23, 2023 12:43 PM IST
Check out the differences between hydration and moisture, the importance of each, and how they are related to maintaining good skin and a healthy skincare routine.
Moisturization and hydration may sound alike, but they are fundamentally different concepts. These two terms are often used interchangeably, however, both are distinct from each other. Hydration is a crucial component of your skincare routine, regardless of whether you have dry or oily skin more so now during these chilly, arid winter months. But are you unsure if your skin requires a hydrator, a moisturiser, or both? It's critical to understand the distinction between a moisturiser and hydrator as well as how each one affects your skin before selecting a skin care product.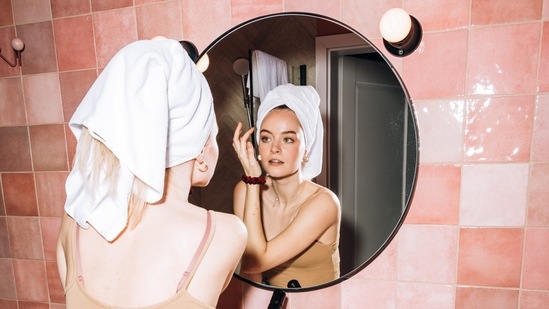 Often dermatologists prescribe hydrating serums or moisturizers or both, depending on your skin type. Knowing the difference, however, does help in making the right choice. (Also read: Skincare tips: The right way to apply moisturizer and mistakes to avoid )
Talking to HT Lifestyle, Dr. Soumya Sachdeva, MBBS, MD, DNB, ECFMG (USA), Consultant Dermatologist at Chicnutrix, shared useful insights on the difference between the two and how to make the right choice for your skin.
1. Firstly it is important to know that when we are talking of hydration, we mean that the ingredient we are referring to is a humectant and when we are talking of moisture, we mean that the ingredient we are referring to is occlusive.
2. Now what exactly is a humectant? Humectants are substances that absorb water from the environment and draw those molecules toward the skin. Occlusives on the other hand form a greasy layer on the skin surface, prevent evaporation and provide an exogenous barrier to water loss.
3. While humectants have hygroscopic properties; they absorb water; occlusives have hydrophobic properties; they prevent evaporation of water from the skin.
4. Humectants include serums, toner, essence, alpha hydroxy acids, hyaluronic acid, vitamins and sodium lactate. Occlusives moisturizers include oils, waxes, petrolatum, cocoa butter, lanolin, beeswax, dimethicone, vegetable waxes and mineral oils.
5. A person with dry skin needs an occlusive moisturizer whereas a person with dehydrated skin needs a humectant moisturizer.
6. Dry skin is recognized by the presence of flaky, xerotic, sensitive and red skin. Whereas dehydrated skin looks dull on the outside and when it is touched it feels tight.
7. Dry weather or colder weather would require the use of an occlusive emollient as the skin is dry and flaky in such weather.
8. Humid weather would require a humectant moisturizer so that they absorb the water from the air and make the skin soft and supple.
9. In summer a humectant moisturizer is a good choice whereas in winter an occlusive moisturizer is what is needed by the skin.
10. It is recommended to decide the best moisturizer for your skin, according to your skin type; and when in doubt, always sought the help of a professional.
The best way in general is to layer up, to reap the benefits of both types of moisturizers. First, apply the hydrating serums and then lock up the hydration with a layer of occlusive moisturizer such as shea butter, cocoa butter etc.