Model leaves everyone shocked as she drags tablecloth, food connected to dress at Copenhagen fashion week. Viral video
Feb 04, 2023 10:10 AM IST
At Copenhagen Fashion Week, during the (Di)vision show, a model closed the show wearing a dress connected to the tablecloth from the table she sat with the guests. She also dragged away the food and utensils kept on the table. The video has now gone viral online. Watch it inside.
Fashion shows are known for pulling avant-garde stunts that instantly become the talk of the town. From the most recent Schiaparelli show that had Kylie Jenner wearing a faux 4D lion head and Doja Cat covered in red body paint and Swarovski crystals to topsy-turvy gowns at Viktor & Rolf, these were some of the viral moments from Paris Fashion Week. And now Copenhagen Fashion Week is garnering headlines because to close the show, a model stood up from her seat and proceeded to walk the runway, dragging the tablecloth along with her, leaving everyone shocked. Watch the viral moment below. (Also Read | Kylie Jenner wears lion head on dress, Doja Cat covers herself in red paint at Schiaparelli Paris show. All pics, videos)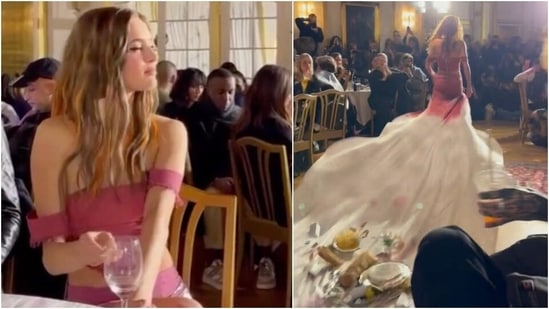 Model drags tablecloth connected to her dress during (Di)vision show
On Thursday (IST), designer siblings Nanna and Simon Wick presented their Autumn/Winter 2023 collection at the Copenhagen Fashion Week. The designers broke all preconceived notions about the runway shows as co-founder Simon Wick's partner Sarah Dahl stood up to close the show. She was sitting alongside the guests on a table with wine-stained linens, candles burning low, and half-eaten plates of food. And then, she surprised everyone as she began her walk and took all the dinner utensils with her because the tail of the dress was the tablecloth itself. Watch the video below.
(Di)vision shared the video on their Instagram page with the caption, "'What are you bringing to the table?" @sarahdahll 'I am the table'. AW23 'Dressed for Disaster' thank you so much, everyone." The video begins with model Sarah tapping the glass to get everyone's attention. Then, she stands up, fixes her dress and drags away the tablecloth because it was a part of her dress' train.
Soon, netizens started flooding the comments section with praise for the unusual move. One wrote, "A moment!!!." Another commented, "I LOVE CHAOS. I'm so here for this." A few users also joked about it. "At your ex's wedding," wrote a user. A netizen remarked, "For everyone confused, the answer is surprise/shock value. High fashion is not about wearable clothes, it's about creating an emotional impact it's performance art."
What do you think about this move?