Lakshmi Manchu's showcases her new Kalaripayattu pose, speaks of its benefits
"This asana pacifies anger, strengthens you and improves your balance," wrote Lakshmi as she performed the Gaja Vativu pose.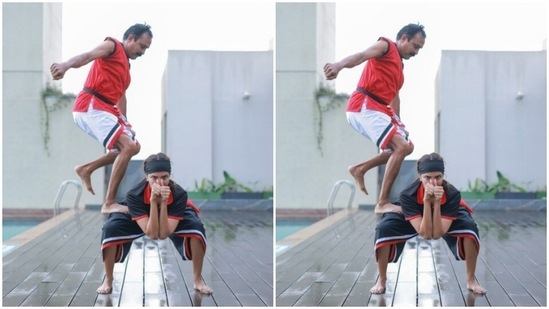 Published on Mar 15, 2022 02:12 PM IST
Lakshmi Manchu is a fitness enthusiast. The actor, when not working, is often spotted in the quaint corners of her home or her gym working out in animal mode. Lakshmi believes in the power of fitness and what it can do to the body and the mind. On multiple occasions, Lakshmi has been spotted speaking of the importance of fitness and why it should be taken up regularly. The actor swears by yoga, high intensity workouts and martial arts, and hardly misses a day from her fitness routine. However, Lakshmi also loves learning new artforms. The actor is currently hooked to Kalaripayattu and the pictures from her sessions are just too amazing.
Lakshmi has recently started learning Kalaripayattu and keeps sharing snippets of her learning journey on her Instagram profile. Kalaripayattu, an ancient martial artform believed to have originated in Kerala, borrows heavily from nature. It uses self-defense techniques and weapons such as swords, daggers, spears, maces, and bows and arrows to defeat the opponent. The ultimate goal of Kalaripayattu is to have a great coordination between the mind and the body.
ALSO READ: Lakshmi Manchu kickboxing in beast mode is the definition of a perfect Monday
Lakshmi, who is freshly learning the martial artform, shared a picture of herself in the elephant pose on her Instagram profile. Lakshmi kickstarted Tuesday on a high note with an intense session of Kalaripayattu. In the picture, Lakshmi can be seen standing in a squat position with her legs balancing her body. Her back can be seen bent to the front and her hands can be seen folded together in front of her eyes. Her fitness trainer, on the other hand, can be seen balancing herself on one of Lakshmi's thighs.
With the picture, Lakshmi explained her pose with an elaborate post. The pose in the picture is known as Gaja vativu or the elephant pose. "Vativu, which means elephant in Tamil, is the name for one of the rare Kalari poses. This asana pacifies anger, strengthens you and improves your balance. It does wonders for flat feet as the weight is concentrated on the edges of the feet achieving better balance than before," she wrote.
Close Story
Personalise your news feed. Follow trending topics