Ajay Singh Yadav reminds voters of unkept promises, assures development
Another issue that the Congress candidate promised to resolve was related to payment of compensation to residents of 300-metre area around the IAF ammunition depot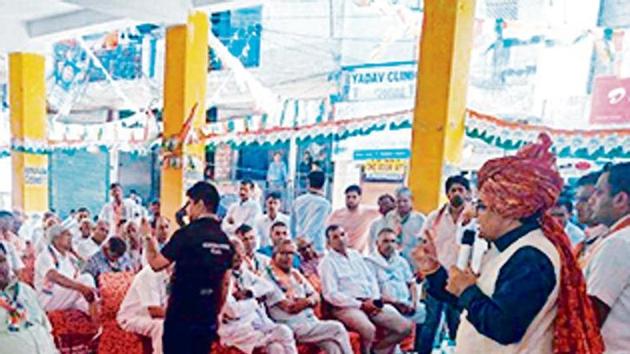 Published on May 06, 2019 12:30 AM IST
A day after holding a rally in the city, the Congress candidate from Gurgaon Lok Sabha seat, captain (retd) Ajay Singh Yadav, Sunday continued to canvas for votes and promised to resolve issues related to infrastructure and compensation.
During his visit to Wazirabad, Dundahera, Chauma, Sirhaul, Bhimnagar, Arjun Nagar and Gurgaon villages of Gurgaon and Badshahpur assembly constituencies, Yadav promised to get Kherki Daula toll plaza shifted to a different location as the concessionaire had already earned revenue far exceeding the investment that went into the project.
Another issue that the Congress candidate promised to resolve was related to payment of compensation to residents of 300-metre area around the IAF ammunition depot. "I will ensure that an affidavit is filed in the court on priority so that residents of this area get the compensation. In the rest 600-metre area, basic amenities like water, power, sewage and roads will be ensured," Yadav said. There are around two lakh people living around the depot, and about 60,000 of them are voters.
Addressing a public meeting, Yadav also promised to set up a medical college, and improve the working of Gurugram Metropolitan Development Authority (GMDA) and Haryana Real Estate Regulatory Authority (HRERA). "These agencies have not delivered until now. I will also ensure that municipality solves the problem of solid waste management and sanitation across the city. The mayor and councillors will also be empowered," he said.
The BJP said that the promises made by the Congress should have been completed prior to 2014. "We have been working on removal of Kherki Daula, and the BJP governments have transformed the city infrastructure completely," said Jawahar Yadav, state spokesperson, BJP.
Meanwhile, Mehmood Khan, alliance candidate of Aam Aadmi Party (AAP) and Jannayak Janta Party (JJP), criticised both the BJP and the Congress for destroying the economy and ecology of the city.
"Both the Congress and the BJP are in politics to enjoy power and they never deliver on election promises," Khan said during his visit to Sector 30, Arjun Nagar, Indra colony, West Patel Nagar, Rajiv Nagar, Miyan Wali colony and other areas.
Close Story