BJP on defensive, says will take action against Pragya Thakur
Under fire from the opposition over Thakur's remarks, Prime Minister Narendra Modi said on Friday he will never be able to forgive Thakur for insulting Mahatma Gandhi.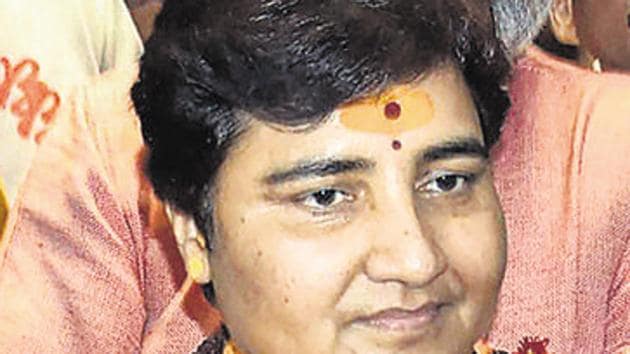 Published on May 18, 2019 02:44 AM IST
The Bharatiya Janata Party (BJP) was on the defence Friday, a day after the party said it condemned its party leader Pragya Thakur's remark calling Mahatma Gandhi's assassin Nathuram Godse a patriot.
Under fire from the opposition over Thakur's remarks, Prime Minister Narendra Modi said on Friday he will never be able to forgive Thakur for insulting Mahatma Gandhi. He told a TV channel after his rally in Madhya Pradesh's Khargone that her comments were detrimental to the society.
"The remarks made about Gandhiji or Nathuram Godse are very bad and very wrong for society... she has sought an apology but I would never be able to forgive her fully," he added.
Holding a press conference with PM Modi in New Delhi ahead of the last phase of polling in the Lok Sabha elections, BJP president Amit Shah said on Friday that the party had served Thakur a show cause notice and asked her to reply within 10 days."After she files a reply, the party's disciplinary committee will take appropriate action," he said.
Responding to a question, the BJP chief said, "We won't consider the remarks on Godse as personal."
Earlier in the day, Shah also tweeted that the remarks by three BJP leaders -- Thakur, Union minister Anantkumar Hegde and Karnataka MP Nalin Kumar Kateel -- were not in line with the party's ideology. Hegde on Friday justified his pro-Godse tweet and claimed that his Twitter account had been hacked into by miscreants.
While holding a roadshow in MP's Agar on Thursday, Thakur had said: "Nathuram Godse was a patriot, is a patriot, and will remain a patriot those who call him a terrorist should look within they will get a reply in this election."
She was responding to a comment made by actor-turned-politician Kamal Haasan, who had claimed Godse was the first "Hindu extremist" in independent India.
The BJP's candidate from Bhopal and an accused in the Malegaon blast case later apologised for her statement.
Opposition leaders of several parties have hit out at the BJP over Thakur's remarks. On Thursday, Congress general secretary Priyanka Gandhi Vadra targeted BJP, saying: "Distancing yourself from your candidate is not enough. Nationalistic luminaries of the BJP, have the guts to spell out your stand."
"The favourite of the Modi-Amit Shah duo – Pragya Thakur – crossed all limits today and committed the unpardonable sin of describing Nathuram Godse as a true nationalist," Congress spokesperson Randeep Surjewala had said in a press conference on Thursday.
Samajwadi Party chief Akhilesh Yadav too criticised the saffron party and said, "India will never forgive the BJP for giving her (Thakur) a ticket in the first place."
This is not the first time that Thakur has made such a controversial statement and then apologised. Soon after she was made the BJP's candidate from Bhopal, the 49-year old said that Mumbai Anti-Terrorist Squad chief Hemant Karkare, was killed due to her "curse". The ATS officer was killed fighting terrorists on 26/11.
Thakur said Karkare tortured her while she was in custody for the Malegaon blasts case. She also boasted about her role in the demolition of the Babri Masjid in 1992.
Thakur later apologised for her remarks on Karkare and on the Babri Masjid. The election commission barred her from campaigning for 72 hours on account of the two comments.
Close Story