Lok Sabha elections 2019: Lending a helping hand to elderly voters in Lucknow
The directions for this initiative were issued by the district inspector of schools (DIoS).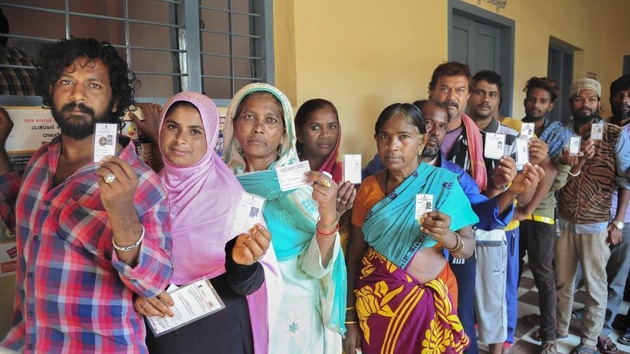 Updated on May 12, 2019 12:35 PM IST
Voting day was not a routine day for almost 15,000 students in Lucknow, who were part of 'Bulawa tolis' across 3,561 polling booths.
They ensured that their parents and neighbours cast their vote and clicked family selfies in which members showed inked fingers. These pictures would be submitted to their class teachers. The students helped the elderly/physically challenged voters at the booths and also went to the houses of a few voters to encourage them to cast their vote.
The directions for this initiative were issued by the district inspector of schools (DIoS).
For Bhupendra Kumar and four other students of Class 12 in Jubilee Inter College, the day started at 6 am, when they got ready to reach the school (polling station). They arrived there around 7am along with parents and neighbours. This was the story of almost every member of the 'Bulawa Toli'.
"We are excited to be a part of the electoral process. We have been assisting elderly people and those with disabilities since morning," said Kumar, adding: "We are taking them to the voting area besides offering water."
Another member of the Toli, Vishal Singh said generally people below the age of 18 can't participate in the poll process.
"But we are fortunate that we got the opportunity to contribute towards the election process. There are several people who do not vote due to lack of assistance," added Singh.
The education department had instructed block education officers and school heads to ensure effective working of 'Bulawa Tolis' (groups of messengers), comprising school children, which go door to door on polling day.
District inspector of Schools (DIoS) Mukesh Kumar Singh said these units of students assisted voters, including specially-abled and elderly voters. "They also went door to door to distribute voter slips," he said. He said every polling booth had a 'Bulawa Toli' of 3-5 students. "Booth level officers took them to every house in their locality," he added.
After 3 pm, some BLOs gave a list of voters (who did not cast their vote) to the Bulawa Toli. "We went to the houses of a few voters in Jawahar Nagar and urged them to cast their vote. We returned to the polling station with them," said Akshay Yadav, a member of 'Bulawa Toli'.
Akshit Shrivastava, a student volunteer in a polling booth of Gomti Nagar, said: "In the morning, we clicked pictures with parents and will forward them to our class teachers."
"We visited some homes in the morning. All of those approached by us exercised their franchise," he said.
Close Story