Mamata Banerjee's nephew Abhishek Banerjee sends defamation notice to PM Modi
In a scathing attack on Abhishek Banerjee, PM Modi said he will lose the elections this time and once the results are announced, his office would be locked.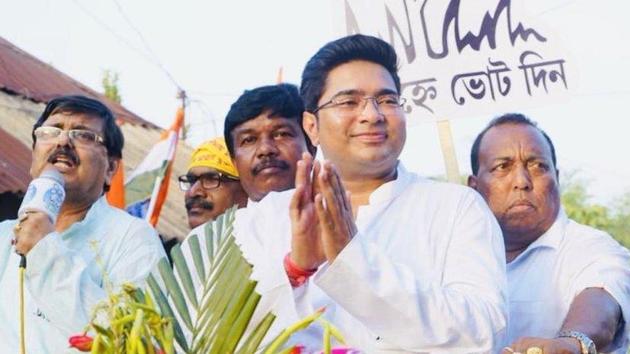 Updated on May 18, 2019 08:37 PM IST
Trinamool Congress leader and nephew of West Bengal Chief Minister Mamata Banerjee, Abhishek Banerjee, on Saturday sent a defamation notice to Prime Minister Narendra Modi for his alleged derogatory remarks made against him in a public rally on Wednesday at Bengal's Diamond Harbour.
The two-page letter demanded unconditional apology within 36 hours from Modi and threatened "appropriate proceedings" in case the apology is not issued.
In a scathing attack on Abhishek Banerjee, PM Modi said he will lose the elections this time and once the results are announced, his office would be locked.
"After the election results, the bhatija's office will be under lock and key. I have been told that the office of the Bhatija has been built by encroaching roads in keeping with the great tradition of the TMC. Hasn't he done it this way? Illegally?" said Modi.
"Didi, your party is amassing wealth through tolabazi (extortion). Why don't you obey the laws? Then why did bhatija encroach upon the road? Actually, habits die hard. The habit of loot does not go away," Modi added.
Also read: EC cites 'fear psychosis', curtails Bengal campaign; Mamata says 'unethical'
Sitting MP Abhishek Banerjee, who is considered the number two in the TMC, is seeking re-election from the Diamond Harbour seat, where he is pitted against BJP's Nilanjan Roy.
"You threatened to lock up my client's office after the results of the 2019 Lok Sabha elections are announced. My client feels that although such claims are spectacular, your malice only depicts your growing frustration with regard to my client's constituency. Such vile and vindictive statements are unbecoming of the post you hold and should be remedied immediately," read the legal notice to Modi.
"Your imputations were deliberate and malafide, perpetrated through thinly veiled references of "bhatjia" (nephew) and "didi" while being fully aware that Smt. Mamata Banerjee is referred to as "didi" and my client himself is the only nephew of the said Smt. Banerjee," said the letter.
The notice also claimed, "Your statements denoted that he (Abhishek) is part of a syndicate involved in organised extortion, having secured unfair gains by dint of his political position."
Describing the Prime Minister's remarks as "unverified, sensationalist, and patently inaccurate" the letter alleged, "you made certain wildly fabricated allegations against my client with the sole intent to mislead the people you were addressing in order to besmirch my client's well-earned reputation."
Also read: Trinamool's internal analysis indicates Left vote may shift to BJP in Bengal
Bharatiya Janata Party (BJP) state unit president Dilip Ghosh did not seem perturbed by the notice sent to the Prime Minister.
"Such measures will not save him (Abhishek). Will he spend energy on serving legal notices or saving his party's MPs and ministers from the CBI (Central Bureau of Investigation)?" Ghosh said.
In a parallel but unrelated development, the Bengal chief minister shot a letter to Chief Election Commissioner Sunil Arora alleging that Election Commission of India (EC) took "a number of illegal, unconstitutional and biased decisions during the election process because of undue influence on the Central government and the ruling party at the Centre."
Referring to Bharatiya Janata Party (BJP) president Amit Shah's roadshow in Kolkata on May 14, during which Vidyasagar College witnessed vandalism, Banerjee alleged that the new Kolkata Police commissioner appointed by the EC withdrew prohibitory orders under Section 144 CrPC imposed in the area. "The roadshow was itself a deliberate, intentional and criminal conspiracy to vandalise the culture and heritage of Kolkata and West Bengal and also to defame the West Bengal government and its people," Banerjee wrote. She alleged that the two special observers appointed for Bengal were biased and influenced by the Centre and requested EC to ensure peaceful polls on Sunday.
The CPI(M) also asked the Election Commission to ensure free and fair polls by deploying adequate Central para-military forces for the last phase on Sunday.
Incidentally, in the end of August last year, Abhishek Banerjee also filed a case against the Bharatiya Janata Party (BJP) president Amit Shah in a city court. Shah had alleged in a public meeting on August 11 in Kolkata that the funds sent by the Centre to Bengal were partly appropriated by Abhishek Banerjee.
Nine Bengal seats - Dum Dum, Barasat, Basirhat, Jaynagar, Mathurapur, Jadavpur, Diamond Harbour, South and North Kolkata- are to vote on 19 May in the last phase of the national elections. The counting of votes will take place on May 23.
Close Story