'India accounts for 60% of total leprosy cases worldwide'
Updated on Jan 30, 2017 01:23 PM IST
India recorded more than a 1% increase in the cases of leprosy reported in 2015-16. New cases continue to be detected in pockets in rural and urban areas. Lepers suffer from discrimination.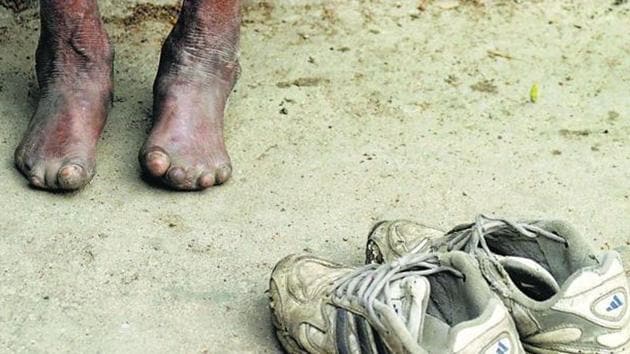 Although India was declared 'leprosy free' in 2010, there are still a number of pockets in both rural and urban parts of the country in which new cases continue to be detected.
"In India, 1,27,326 cases were recorded in 2015-16 which shows a rise of 1.22% from the year 2014-15. India accounts for 60% of total leprosy cases reported worldwide which is a matter of concern for us. Last year alone, more than 5,700 patients in India were found to have grade 2 disability caused by leprosy," said Dr Sunil Kumar Gupta, associate professor of HIMS, Safedabad, Barabanki in a press statement on the eve of Leprosy Day on Sunday.
There are about 3 million undiagnosed cases in the world today and 4 million people live with the physical consequences of the disease, he said.
This year, the Indian Association of Dermatology, Venereology and Leprosy (IADVL) has adopted the theme –"Wake up. Feel the pain. Prevent stigma". The day is observed on the martyrdom day of Mahatma Gandhi to revisit his selfless efforts and care for people affected with leprosy.
On the occasion of Leprosy day, IADVL UP has requested all doctors, social health care workers, and health ministry and to media personnel to help in leprosy awareness and treatment and to prevent the disabilities and bust the stigma attached with the disease.
Dr Gupta said, "Leprosy is an infectious disease of the skin and nerves. It causes white spots of anaesthesia on the skin, meaning people are unable to feel the affected areas. Besides causing physical damage, those who fall prey to the disease experience discrimination and social exclusion simply because they or someone in their family suffer from the disease."
Dr Gupta said treatment is free but many people are unaware of it. "It is completely curable. However, the stigma surrounding leprosy means people are shunned by society and so they often hide themselves from the society," he said.