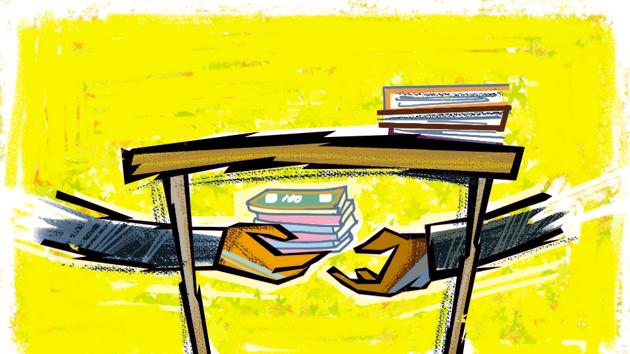 CBI arrests 4 senior Mumbai customs officers in
₹

50 lakh bribery case

The accused demanded bribe in instalments to release consignments of imported goods.

UPDATED ON MAY 02, 2018 10:42 AM IST
The Central Bureau of Investigation (CBI) on Tuesday, arrested four deputy commissioners and one superintendent of Mumbai customs along with a private person, in connection with a bribery case of ₹50 lakh.
Following a complaint lodged by an importer, the CBI laid a trap and arrested the six people after they were caught in the act of accepting a bribe amount of ₹5 lakh as a first installment from the complainant's partner.
The arrested deputy commissioners posted at Nhava Sheva have been identified as Mukesh Meena (rummaging and intelligence), Rajeev Kumar Singh (marine and preventive), Sudarshan Meena (special intelligence and investigation branch) and Sandeep Yadav. Customs superintendent Manish Singh and Nilesh Singh, a private individual have also been arrested.
According to CBI, Mukesh, Manish and Datta Sonawane, another accused, had on April 19, demanded an amount of ₹25 lakh to release the imported consignment of the complainant lying at Navkar CFS.
After a negotiation, the bribe amount was reduced to ₹21 lakh. During the investigation, it was also found that Sonawane collected ₹5 lakh from the complainant on April 19, and ₹6 lakh on April 21, when one of the consignments was released from Navkar CFS.
Sonawane and Bhavik, another accused, continuously threatened the complainant that his other consignments would be seized and four additional incoming consignments would be put on hold, if he failed to pay the balance bribe amount of ₹10 lakh.
A CBI official said that the allegations were verified by recording the conversation between the accused and the complainant and thereafter a trap was laid to arrest the accused.
He added that during verification it became clear that Mukesh, Manish, Akshat Rathod of the custom office, Rajeev Kumar Singh, Sudarshan Meena and two private persons – Dutta Sonawane and Nilesh Singh – had demanded a bribe of ₹50 lakh for not holding two incoming consignments of the complainant and two others; and also managing the clearance of the consignment, which was already kept on hold by rummaging and intelligence at Navkar CFS. Sonawane, Bhavik and Akshat have not yet been arrested.
Bribery impossible without help from higher officials: CBI
The CBI believes that the bribery case could not have been possible without involvement of seniors from the department.
"This is a case of larger conspiracy wherein all three preventive and intelligence units of customs such as rummaging and intelligence, marine and preventive wing and special intelligence and investigation branch have a criminal meeting of mind to obtain illegal gratification," the agency told the court on Tuesday.
"This type of conspiracy cannot be hatched without involvement and patronage of senior customs officers," read the remand report adding, "To unearth such larger conspiracy, custodial interrogation of the arrested accused is necessary to recover the documents relating to the case."
The agency stated that the initial investigation has also revealed the involvement of custom house agents, who helped the arrested accused in collection and laundering of ill-gotten bribe money.
CBI stated that the entire bribe amount demanded was Rs25 lakh out of which Rs11 lakh was accepted by an agent while the rest was yet to be paid.
Close