JNPT near Mumbai trashing 20,000kg of plastic into sea every day
State environment department was tipped off by fishermen, who claim they have been fishing out large quantities of plastic, specifically from the area where JNPT is allegedly depositing waste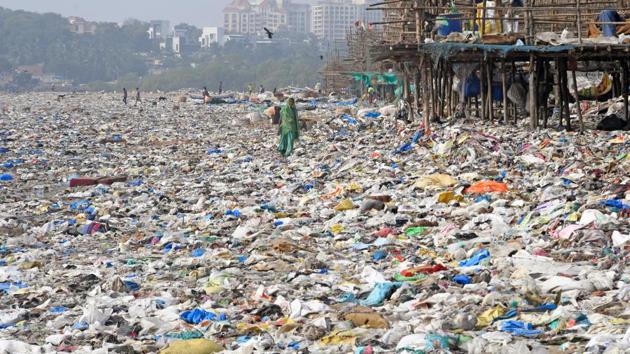 Updated on Jun 05, 2018 01:20 AM IST
For the past eight months, the Jawaharlal Nehru Port Trust (JNPT), India's largest container port, has been dumping unsegregated materials, including 20,000kg of plastic, in the sea, at a site 12 kilometres off the southern tip of Mumbai. This has been revealed after the state environment department was tipped off by fishermen, who claim they have been fishing out large quantities of plastic, specifically from the area where JNPT is allegedly depositing waste.
The site allotted to the port is for dumping sand, silt, clay and rocks, dredged during the port's deepening. After the fisher folk informed the environment department officials of such an activity, they conducted an inquiry into the matter. The officials have confirmed that 20 tonnes (20,000kg) of plastic is being dumped daily at the offshore site. The department has decided to issue a notice to JNPT, asking the port authorities on their failure to segregate plastic.
JNPT authorities, however, have denied allegations, claiming that plastic is a floating material and therefore, did not get accumulated with dredged material. "The area where we are carrying out dredging is less than 3% or 4% of the entire harbour.So the machines catch only solid material and no plastic, and the process is a highly technical one," said SV Madabhavi, chief manager – Port, Planning and Development, JNPT.
A member of the fishing community from Cuffe Parade, who had approached the government on the issue, said, "We have lost our everyday catch worth ₹20,000 for the last eight months from this area. During monsoon, in case of high tide, plastic trash lands up on beaches and mangroves along Mumbai's coastline."
Satish Gavai, additional chief secretary, state environment department and chairman, Maharashtra Coastal Zone Management Authority (MCZMA), said, "When permissions were issued to JNPT for dredging, segregation of plastic from the dredged material was the primary directive, with treatment of the material being the secondary directive. While there is no indication regarding treatment, mixed plastic waste is being dumped to the bottom of the ocean, which is extremely dangerous. We will be issuing a notice to the port soon."
Meanwhile, a study by the Helmholtz Centre for Polar and Marine Research in Germany, conducted last year had revealed that the seas near Mumbai are among the most polluted ones in the world, with maximum amount of plastic accumulation, among other sources of domestic waste.
Close Story