Maharashtra farmers get half of what you pay for milk
While consumers in Mumbai pay Rs42 per litre of cow milk, dairy farmers get Rs19-24 per litre, which is just Rs4 more than their production cost of Rs18 per litre.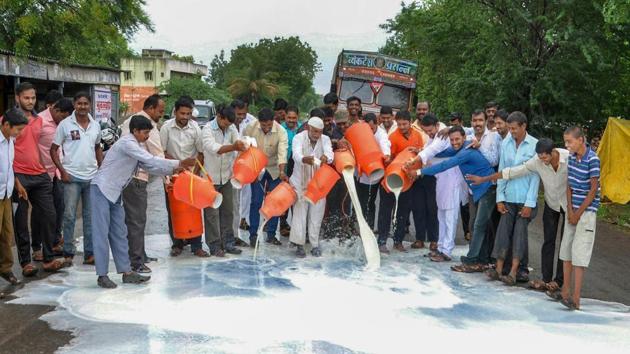 Updated on Jul 18, 2018 12:34 AM IST
Hindustan Times |
, Mumbai
Surendra P Gangan
The scenes from the dairy agitation have been dramatic: farmers blocking tankers from milk-producing districts of Maharashtra and Gujarat; milk gushing out of tankers and spilling onto roads. They're meant to drive home just how little the average farmer is earning from the milk that is supposed to earn them their livelihood.
On Monday, Swabhimani Shetkari Sanghatana launched a state-wide protest, demanding a subsidy of Rs5 for dairy farmers. "We want to block milk supplies of urban areas and will continue to do so until our demands are met," said Raju Shetti, leader of the agitation and member of parliament from Kolhapur.
The farmers say they get barely half of the price a consumer pays at the retail stage. While consumers in Mumbai pay Rs42 per litre of cow milk, dairy farmers get Rs19-24 per litre, which is just Rs4 more than their production cost of Rs18 per litre.
Owing to the oversupply of about 22 lakh litres a day, milk rates have decreased by Rs5-7 per litre from the procurement price of Rs27 fixed by the government.
However, retail prices remain constant. The ones profiting from this are the cooperatives and private dairies that buy milk from farmers and sell to consumers.
"The overall expenditure of private and cooperative dairies – right from the collection of the tehsil level societies to dispatching the packets to the ex-dairy distributor – is not more than Rs 9-10 per litre. This includes transportation, chilling, labour, polythene, leakage and wastage charges and also the interest on their loans," said Anand Gorad, chairman of Agri Dairy and Food Industry Forum.
The state government increased the procurement price to Rs 27 in June last year to ensure remunerative price to farmers in the wake of increased overheads. However, the farmers didn't get the assured price as the milk dairies moved court against the decision. Since then the procurement price has witnessed a consistent fall due to excess production and a fall in the price of skimmed milk powder in international market.
The farmers have alleged that dealers, wholesalers and distributors are paid commissions ranging between Rs 6 to 9 per litre, besides the home delivery charges levied on the consumers. Shree Naik of State Milk Distributors and Transporters Sangh said that this was innaccurate. "Commissions to wholesalers range from Rs 3 to Rs 7, depending on the brands. But we have various overheads to look after, besides the one month's credit given to the consumers," said Naik.
Experts say there are losses being weathered by private brands and dairies. "The milk powder stock has piled up to 60,000 metric tonnes for the want of demand in the international market. Against the production cost of Rs 240 per kg, the selling rate has fallen to Rs 120," said Arun Narke, ex-president of Indian Dairy Association and director of brand Gokul. He however admitted that some private brands have been buying milk at the lowest procurement price in the absence of any government regulation.
The state hopes to address concerns and resolve the issue on Thursday, when all the stakeholders will meet. "After various measures including a subsidy on export of milk powder, the milk dairies have increased the procurement price by Rs 3 from July 21. Gradually, it could be increased to Rs 5 per litre. This would help in correcting the gap," said Kiran Kurundkar, secretary, dairy development and fisheries department.
Close Story