Maharashtra government set to ban plastic containers, banners, boards, not just bags
Ban likely to come into effect from March; plastic used for packing and packaging will be exempted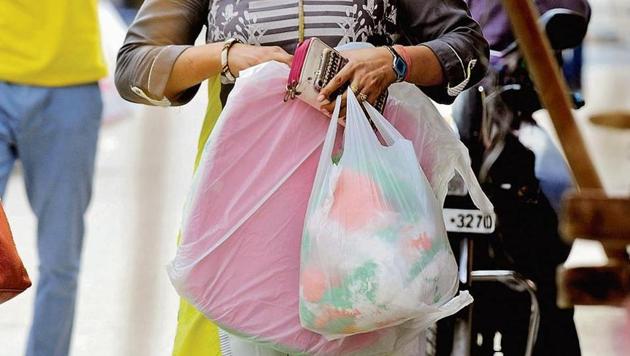 Updated on Jan 12, 2018 10:47 AM IST
Most items made of plastic are set to become history in Maharashtra this March. The state, which had already banned certain type of plastic bags, is now planning to ban disposable containers, flags, flex boards, banners and non-woven polypropylene bags, among others.
However, plastic used for packing and packaging will be exempted. Similarly, plastic containers and sachets used to package products such as milk, grains, pulses and other goods will not be banned, said officials. Although the ban is likely to come into effect from March, details are still being worked out by studying various bans imposed in states such as Karnataka.
The state had announced a ban on plastic bags after it realised the 2006 ban on plastic carry bags of up to 50 microns was not helping unclog the drains — the reason why they were banned in the first place.
In the 2005 deluge in Mumbai, it was found that plastic bags were a major reason why the storm water drains were clogged, leading to floods in several areas. Now, state environment officials want to extend the ban to all types of plastic bags and other items that are not just clogging the drains, but are also damaging the ecology as they are non-biodegradable.
"Besides plastic bags, we intend to ban flex boards, banners, flags and disposable items made up of plastic and thermocol such as plates, cups and spoons. We are studying reports from other states,"said state environment minister Ramdas Kadam.
In an order issued on January 2, the state environment department stated the government intends to ban certain plastic sheets, flexes, banners and flags as well as disposable material made up of plastic and thermocol such as plates, cups, glasses, forks, bowls and spoons. In the order, it has directed all local authorities — municipal corporations, municipal councils, district collectors and chief executive officers of zilla parishads — to ensure strict implementation of the proposed ban by taking an undertaking while renewing licences of the retailers/shopkeepers that they will not sell the banned items, once the ban comes into force.
The Maharashtra Pollution Control Board (MPCB) has also conducted region-wise meetings of all the stakeholders informing them about the proposed ban and how it needs to be implemented.
"We have started the exercise to ensure strict implementation of the ban and also create awareness among authorities, shopkeepers and vendors about the ban to be imposed in the coming months," said Satish Gavai, additional chief secretary, state environment department.
"The government also wants shopkeepers and vendors to fall in line as they are the ones who sell plastic bags and other items. The undertaking clearly says that if they were found selling banned products then their licences will be either revoked or will not be renewed," Gavai added.
The proposed ban addresses the concerns over increasing use of plastic by individuals and its impact on environment. However, it is likely to hit the retailers, restaurants and outlets selling takeaway food as well as manufacturers of the plastic and thermocol material. It will also hit the advertising industry hard as plastic boards and hoardings as well as flex boards are sought to be banned.
A senior official from environment department, who is privy to the development, pointed out that the ban imposed on plastic in Karnataka was supported by both the National Green Tribunal (NGT) and Karnataka High Court.
The environment department is in the process of preparing a notification, which will be the official announcement of ban covering the items. The notification is likely to be issued by the end of this month.
P Anbalagan, member secretary, MPCB, said during the region-wise meetings, they have asked all the stakeholders to help the government for effective implementation of the proposed ban.
"The authorities have also been asked to create awareness among citizens about the proposed ban so that citizens shall be mentally prepared," he said.
However, the implementation of the ban on plastic items will be the key. Often it has been observed that the decisions are made, but they become a failure when it comes to implementation, say environment activists.
Stalin D, director Vanashakti, a Mumbai-based NGO working for environmental rights, said it is a bold and welcome move of the state government. However, its implementation is going to be a very difficult task. "My suggestion to the government is to make possession of the banned items an offence, only then, its implementation would become really effective," Stalin said.
Close Story