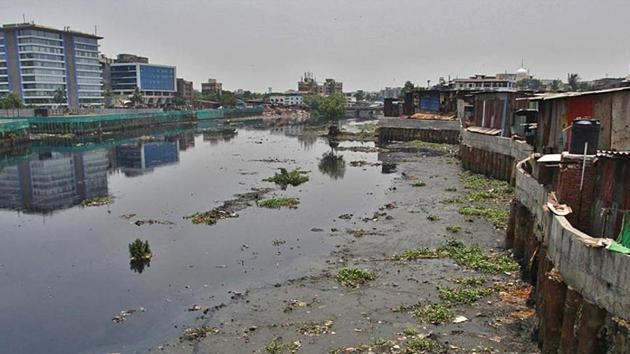 Maharashtra has maximum cities, towns in India located along polluted river stretches
Union environment ministry shared details in Rajya Sabha last week; 161 of state's cities and towns located along polluted river stretches
UPDATED ON APR 02, 2018 02:30 PM IST
Of the 650 cities and towns located along polluted river stretches in the country, Maharashtra has 161 or 25% — the highest in India — according to the Union environment ministry.
In a written statement to a question in Rajya Sabha last week, Mahesh Sharma, minister of state, Ministry of Environment Forests and Climate Change (MoEFCC) said after Maharashtra, Assam had the second-highest number of cities and towns along polluted river stretches at 49, then West Bengal with 47, Gujarat with 38, UP and MP both with 37.
The details come five months after HT reported the state has 49 of 302 polluted river stretches in India, the highest across 29 states, according to a Central Pollution Control Board (CPCB) report. Some of the most polluted rivers include Mithi, Godavari, Bhima, Ulhas, Tapi, Kundalika, Panchganga, Mula-Mutha, Pelhar, Penganga, Vaitarna etc.
The MoEFCC report identified inputs submitted individually by state pollution control boards. The Maharashtra Pollution Control Board (MPCB) said the top 10 most polluted cities and towns were Mumbai, Pune, Thane, Nanded, Akola, Nagpur, Sangli, Amravati, Kalyan, and Panvel.
READ: Mumbai is breathing a large amount of harmful pollutants, shows ministry report
"Since these reports have been collated by the ministry, we have improved the water quality of 15 of the 49 most polluted stretches so far. While Mithi remains a challenge, all 27 municipal corporations are working hard to improve water quality of all these cities and towns, and based on our action plan, which has already been executed at Nagpur, Nashik and Nanded, we expect water quality to improve significantly across all 49 stretches in the next 18 months," said P Anbalagan, member secretary, MPCB. "We should not forget Maharashtra has the maximum number of water quality monitoring stations (250), and this also allows better reporting of data."
He said Mula-Mutha, Godavari, Tapi, Nira and Bhatsa were some of the rivers that had recorded a considerable improvement in water quality. "As a part of our action plan, we had divided the list of rivers into four priority levels for faster treatment. Apart from Mithi, enforcement on ground regarding all rivers under priority 1 and 2 have been completed, and the results will be visible soon. Enforcement measures for priority 3 and 4 are underway," said Anbalagan.
Senior officials said the reason for poor water quality was negligible flow and less dilution in 24 of the 49 polluted stretches. "Prior to the construction of dams and population expansion with river water being used for irrigation purposes, the natural flow of majority of rivers was good throughout the year. Rivers had self-purification capacity. From 1980 onwards, the advent of development and technology allowed more dams, irrigation projects, and bunds along these rivers, which curtailed the natural flow. Over the next two decades, domestic waste and faecal matter began stagnating along various stretches, making them polluted," said YB Sontakke, joint director, water quality, MPCB adding that only during monsoon, the flow increased and dilution was better.
He said the only remedy was stop the waste entering the river and stop it at source. "This has begun in various areas in the state with the development of sewage treatment plants and stopping all industries from releasing effluents directly into the sea," said Sontakke. "However, while there might be an action plan and proper focus with respect to our efforts, the support from the central government has been limited. When they (central government) are aware that there is a pollution problem in Maharashtra, why aren't they providing funds to state, district and municipal level to treat sewage similar to what is provided for clean drinking water."
STATE GOVERNMENT SPEAKS
"We are imposing stricter effluent discharge norms as per Central Pollution Control Board guidelines across the state, and the directives have already been issued. The municipal authorities have to keep effluents from these cities and towns in check, and ensure they adhere to these norms scrupulously. Some cities like Nagpur, Pune and Nanded are on track. We will give others considerable time frame to comply but if they fail to do so, these municipal bodies will be have to bear heavy penalty," said Satish Gavai, additional chief secretary, state environment department.
Close