Maharashtra to increase security for docs, restrict number of relatives visiting patients
Hindustan Times |
, Mumbai
Sadaguru Pandit
Mar 16, 2017 12:48 AM IST
This comes in wake of an attack on a doctor at Dhule's Civil Hospital on Sunday by relatives of a patient.
Health officials from Maharashtra have planned to increase security at hospitals and restrict entry of patients' relatives inside the wards. This comes in wake of an attack on a doctor at Dhule's Civil Hospital on Sunday by relatives of a patient.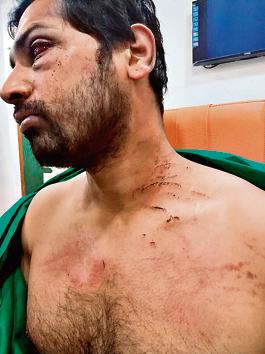 The resident doctors have, meanwhile, called for a state-wide strike.
Dr Rohan Mhamunkar, the on-duty doctor at the Dhule Civil Hospital was beaten up by 15-20 people. He had visited Seva Superspeciality and Critical Care Hospital of Dhule where the doctors said that the assault greatly affected his vision. Dr Mhamunkar also sustained fractures on the ribs and skull.
"Primary investigations revealed an orbit fracture (traumatic injury to the bone of the eye socket), chest abrasions, lacerated wounds on his torso and a severe head injury. He had zero vision when he was brought to the hospital and it will take a lot of time for him to regain his it," said the doctor from the trauma unit of the hospital. Dr Mhamunkar, a Mumbai resident, is currently admitted in the intensive care unit of the Jupiter Hospital in Thane. He has developed a blood clot due to the injuries, said a doctor from the hospital. He added that they are diagnosing if his head injuries have resulted in any minor fractures or not.
The director of Directorate of Medical Education and Research (DMER), Dr Pravin Shingare, said that Dr Mhamunkar would regain his sight gradually. He added that they have started reorganising the entire security system of all government-run medical colleges and hospitals. "We have not yet discussed the idea of posting weapon bearing police officers but we are going to increase the number of guards at hospitals. We are also going to restrict the number of relatives allowed with a patient to one or two," said Dr Shingare.
Maharashtra Association of Resident Doctors (MARD) has, meanwhile, planned a mass bunk of all the resident doctors across the state. They have also organised a protest at Azad Maidan and then march to the Assembly. "We condemn this cowardly act at Dhule. Irrespective of low security of doctors in state, state officials have taken no strong action. Hence, we have decided to mass bunk," said Dr Yashowardhan Kabra, president of central MARD.
Also read: Man arrested for beating doctor hangs himself in Maharashtra's Dhule