Unsafe Sion-Panvel highway takes a toll on motorists
A Right to Information (RTI) query revealed that 32 people died in accidents between Belapur and Vashi on Sion-Panvel highway in the past nine months.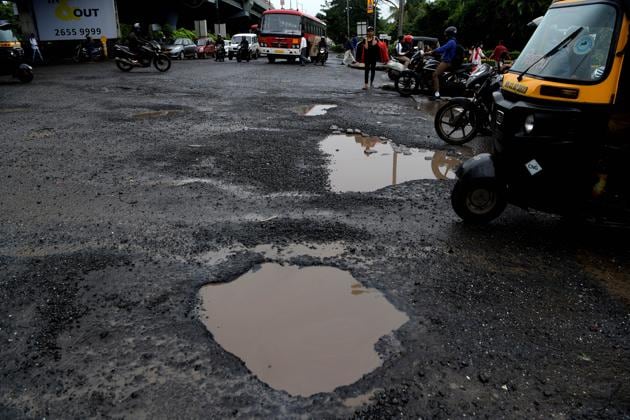 Updated on Aug 30, 2018 12:25 AM IST
The 25-km Sion-Panvel highway, which passes from Vashi to Kalamboli in Navi Mumbai, has turned into an accident-prone stretch.
A Right to Information (RTI) query revealed that 32 people died in accidents between Belapur and Vashi on Sion-Panvel highway in the past nine months.
Sources from traffic department said: "There were 15 deaths and 87 accidents between Belapur and Vashi during similar period last year."
The Sanpada and Nerul stretch of highway tops the chart with maximum number of deaths at 11 between November 2017 and July this year.
The vital link to Mumbai and Pune has been seeing regular traffic snarls because of potholes this monsoon.
Apart from filing an RTI query, Kharghar resident and activist Deepak Singh also filed a public interest litigation (PIL) on pothole-riddled Sion-Panvel highway and problems faced by commuters every day.
"The hearing has been intentionally delayed, despite the case being a criminal PIL. I have written a letter to the Chief Justice of India to take up this case on priority basis," said Singh.
Around 19 km of Sion-Panvel Highway from Vashi toll booth till the start of Pune Expressway passes through Sanpada, Nerul, Belapur, Juinagar, Kalamboli and Panvel
The public works department (PWD) is responsible for maintaining the highway.
PWD executive engineer Kishore Patil said, "We have taken up repairs but cannot start concretisation work till monsoon ends. We fill patches and also keep an eye on newly developed potholes and repair them. The traffic snarls are because of potholes on Belapur and Vashi bridge which is maintained by Mumbai Entry Point (MEP) Infrastructures."
The police stations had written to PWD officials before monsoon to repair the bad stretch. But, nothing was done.
Anil Deshmukh senior police inspector from Vashi police station said, "Roads are in a pathetic condition which has been leading to accidents. But, officials have ignored this. In the letter we did mentioned about dangerous stretch killing people but nothing was done to solve the issue."
The Sion-Panvel Highway is one of the busiest highway in the country and an important junction for vehicles going towards Pune, Goa and southern cities of Maharashtra through Mumbai-Pune Expressway.
Engineer from MEP Vijay Mane said, "We have already fixed paver blocks at the beginning of Belapur bridge. Asphalting work on highway has been taken up to fill potholes."
One of the worst stretches of the highway is near Vashi bridge till Sanpada. Big potholes dot Vashi bridge on both sides.
Nitin Pawar, deputy commissioner police (traffic), said, "The condition of the highway has worsened this year. Cops manning traffic too face difficulty and at times they have to face motorists' ire."
"Officials should fix the problem. It is alarming that the potholes which are the cause of accidents have been ignored. The PWD officials should be answerable for the deaths," said Hemant Sharma, a transport activist from Nerul.
Motorists and commuters have been bearing the brunt daily.
"Small accidents on the highway are a daily affair. Bikers topple and fall on highway every day," said Bipin Apte, 32, a daily commuter who travels between Kamothe and Chembur every day.
Amit Charles, 29, took three hours to reach Mumbai airport.
"It should have ideally taken one and half hours. Officials are still busy doing shoddy work. They are earning revenue in crores from toll but have ignored our problems," said Charles, a Kharghar resident.
Close Story
Personalise your news feed. Follow trending topics