Dream Theater: See you soon India, it will be an amazing evening, can't wait!
Updated on Sep 29, 2017 05:45 PM IST
American progressive metal band, Dream Theater's vocalist James LaBrie speaks to us about the band's first ever trip to India, ahead of their maiden performance in Mumbai on October 8.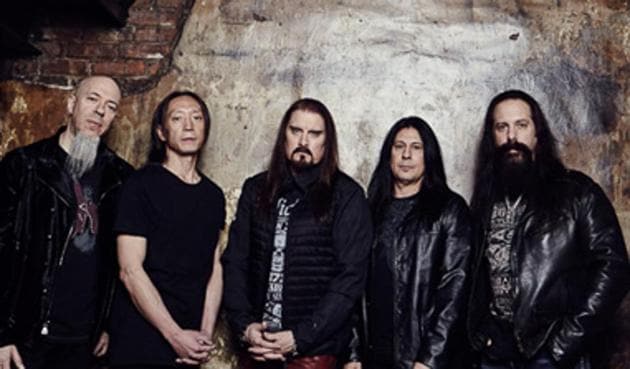 It's not just the fans here who are excited about American progressive metal giant Dream Theater's first ever concert in India. The five-member act too "can't wait" for it, and promise it to be "an exciting night" when they take the stage in Mumbai on October 8. In an email interview with us, the band's frontman, James LaBrie, spoke to us about the band's first-ever visit to India, the changing music scenario, and more. Excerpts:
How excited are you to perform in India? How has your experience been of interacting with Indian fans, and what do you expect from them?
Extremely excited, we have been talking of touring in India for many years and now it's a reality. Of course it being the first show will make this a very special event for both us and the fans. It will be, without a doubt, an epoch evening. Over the years, I've done interviews and met Indian fans, and it has always been a very positive experience. I've realised just how much our music has meant to them and how it has become a part of their lives. See you soon India, it will be an amazing evening. Can't wait!
Dream Theater has always been critically acclaimed for their knowledge in theoretical music. How important is it to learn the theory part of music?
I think it depends on what it is you're looking to get from music or how you want to represent music. It comes down to your musical fundamentals, form, direction, and approach, compositionally. How you attain that goal is either by means of musical education or intuitively, or a combination of both.
You still continue to release albums, while these days artists prefer to release singles. Will we ever see Dream Theater come up with a single than an album? What is it about making albums that you guys still haven't released singles?
Singles are just not a format that would do us justice. When we record new music, it only feels right to include several songs to represent who and what we currently are. One song couldn't possibly capture what motivates, inspires, and expresses, on every emotional level, what will musically satisfy us and will best say who we are as a band at that point in time.
How has the importance of live shows changed from a revenue model perspective, especially when song sales have dipped, thanks to piracy and illegal downloads?
Well, that news or change is no longer transitional. Revenue from live concerts has become the sole source of income for most artists. Fortunately, we still do very well as most of our fans like our physical formats as well as feel obliged to respect our music through purchase. Don't get me wrong, it's not like it was in the 90's but it still is, for most the part, very fine for this day and age.
People often compare John Petrucci (band's guitarist) with the likes of Steve Vai and Joe Satriani. What do you have to say about the debate on who is the better guitarist?
It's subjective. You can't compare the two and say who is better. It is the individual's/ listener's perspective and personal connection. To say one or the other is better, is a disservice to both.
Over the course of a 25-year journey, how have you seen metal music change?
Well, I think there is much more diversity and eclectic styling of bands. I believe there are many amazingly talented musicians and bands doing very exciting, experimental, and innovative approaches with the inclusion that technology has brought to the sonic forefront. You just have to look and you will find multiple examples of unique artists pushing boundaries. Exciting, to say the least.
Follow @htshowbiz for more