Jinder Mahal wants to put India on WWE map again, faces Randy Orton
Jinder Mahal is extremely proud of his Punjabi lineage and wants to make the Indian fans proud by becoming the WWE Heavyweight Champion. Jinder Mahal takes on Randy Orton for the WWE Heavyweight Championship on Sunday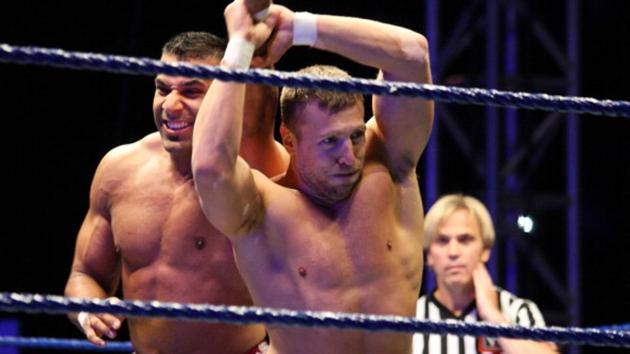 Updated on May 20, 2017 01:55 PM IST
The World Wrestling Entertainment (WWE) has always been quite popular in India, but the lack of Indian wrestlers hindered its growth in the country. Dalip Singh Rana (also known as The Great Khali) was the only one to make it big in the company and despite WWE bringing in some Indian wrestlers into their developmental roster, it has not helped their cause.
However, it seems that the company has finally found their next Indian superstar in Indo-Canadian origin wrestler Jinder Mahal.
Read | WWE champions to add wrestling flavour to India Premier League razzmatazz
Mahal was born in Canada and did his higher education from the University of Calgary. However, he is extremely proud of his Punjabi lineage and wants to make the Indian fans proud by becoming the WWE Heavyweight Champion.
"I'm very proud to be representing India in the WWE. It makes me proud that I'm representing all of them on such a big scale and I hope I can become WWE Champion and make all of India proud."
Read | Stephanie McMahon 'surprised' by interest in WWE among women wrestlers
"I'm Punjabi and speak Punjabi fluently and know all the Indian customs and everything. I learned Punjabi before I learned English in spite of the fact that I was born in Canada," he added.
Jinder Mahal joined WWE way back in 2011, but his success was not instant. He struggled in the mid-card for most of his career and was released by the company in 2014. However, he rejoined in 2016 and his rise since then has been meteoric. He has established himself as one of the top names in SmackDown Live and Mahal believes that he is ready to take the next big step in his career.
Read | WWE star Kofi Kingston sure India will produce successor to The Great Khali
"I'm one win away from becoming WWE Champion. One win away from making all my dreams come true and changing my life. I'm going to be more aggressive and I'm training harder now. I'm not the champion yet but that's the goal – to be WWE Champion."
Jinder is also no stranger to the Indian style of wrestling. His uncle - Gama Singh - was a celebrated wrestler in the 1980s and he was also a part of the World Wrestling Federation (WWF) at the time. Jinder Mahal's new finisher - 'The Khallas' - is a modified version of his uncle's cobra clutch and the wrestler credits Gama Singh for making him into a WWE wrestler.
Read | The Great Khali's final move: Desi-style WWE via a village in Punjab
"My uncle wrestled in the late 80s to early 90s and I was too young to see his matches. However, he has always supported me in my journey and I think that without his support, all this would not have been possible. He taught me a lot and he is the reason that I'm a WWE wrestler.", he told HT.
Jinder Mahal will be facing possibly the biggest challenge of his career on Sunday when he takes on Randy Orton for the WWE Heavyweight Championship. However, Mahal is quite confident ahead of his match and is already thinking about the next superstar whom he would like to challenge.
"I would like to face John Cena next. Hopefully, I will be WWE Champion when the time to face Cena comes.", he said when asked about his dream opponent in the company.
Close Story
Personalise your news feed. Follow trending topics