Accused in 125 cases, serial snatcher arrested in Chandigarh
Oct 15, 2017 02:18 PM IST
He was earlier arrested by the police in October 2016 and was released on bail in May this year.
At 31, Vicky of Uttar Pradesh's Bulandshahr has already created a record of sorts. Since 2005, when he was arrested for the first time, he has committed 125 snatchings in the tricity.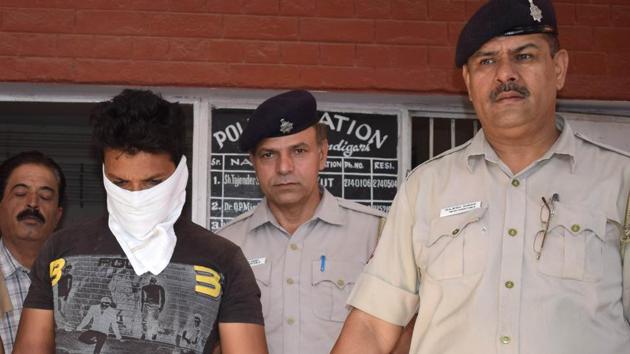 The luck ran out for him on Saturday after he, along with his aides — cousin Usman Ali, 32, and friend Shakil Ahmad, 40, both hailing from old Delhi — were arrested by the anti-snatching, robbery and dacoity detection cell of Chandigarh Police crime branch from Sector 46 following a tip-off. Usman and Ali are working as tailors in Delhi.
The police recovered 13 gold chains and 4 two-wheelers from their possession.
"Vicky is a serial snatcher and has been named as accused in 125 cases. He has been declared proclaimed offender in 45 cases," said superintendent of police (operation), Ravi Kumar.
Vicky was earlier arrested by the police in October 2016 and was released on bail in May this year.
"He lives in a rented accommodation in Sector 46 and is fond of lavish lifestyle. He had invested money in property and has a house in Delhi where his wife and son live," said Pawan Kumar, deputy superintendent of police (DSP crime). He often organises cocktail parties for his associates.
Coming from a family of bootleggers, Vicky started selling illicit liquor but didn't find it lucrative enough and started snatching chains.
MODUS OPERANDI
Police said Vicky uses stolen two-wheelers for snatchings. He targets women, especially elderly, by enquiring about a location of the particular place. The motorcycles used in the crime have fake registration numbers and the number plate is changed after every incident, the police said.
HAD MORTGAGED TWO GOLD CHAINS
Finding it hard to sell snatched chains in Chandigarh, Vicky mortgaged a part of the booty and took gold loan from private finance companies in Delhi and Zirakpur.
Police said Vicky was arrested in October 2016 with his accomplice Dilshad, 24, of resident of Mauli Jagran, Chandigarh. Police had then recovered 18 gold chains along with three two-wheelers from their possession. He is a proclaimed offender in 45 cases and 100 cases of snatching, robbery, motor vehicle theft have been registered against him. Some of cases are in the trial stage. He has also been convicted in some cases but the jail term has been rendered as undergone. In 12 cases, charges were dropped against him and he has been acquitted in 47 cases.