2018 assembly elections a fight against casteism, dynastic politics: BJP president Amit Shah
Updated on Nov 22, 2018 11:50 PM IST
BJP president Amit Shah was taking part in the BJP's 'Yuva Ri Baat Amit Shah Re Saath' programme in Jaipur in which he interacted with 200,000 youth as part of the party's outreach. Shah launched the party's poll campaign for Rajasthan assembly election.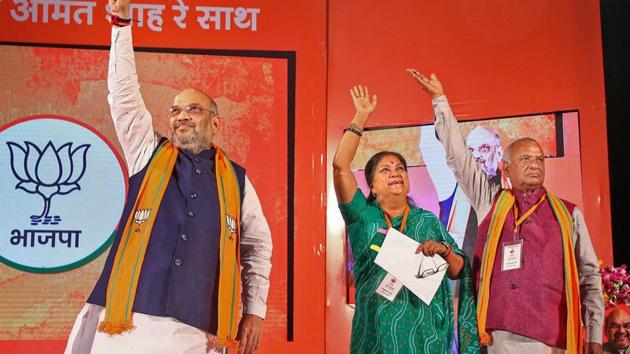 Launching the party's poll campaign in Rajasthan BJP National president Amit Shah on Wednesday said the 2018 polls were a fight against Congress party's policy of casteism, dynastic politics and appeasement.
Addressing a gathering of youth here, Shah said the BJP had defeated these three evils in 2014 but they are rearing their heads ahead of the 2018 polls. "The 2018 election is a fight against casteism, dynastic politics and appeasement and the battle cannot be won without the Rajasthan youth," said Shah.
Shah was taking part in the BJP's 'Yuva Ri Baat Amit Shah Re Saath' programme here in which he interacted with 200,000 youth as part of the party's outreach.
Youth from all seven divisions of the state – Jaipur, Ajmer, Bharatpur, Kota, Udaipur, Jodhpur and Bikaner -- gathered at venues in their respective locations and asked Shah questions via two-way communication facility at the venues. The main event was held at a school in Jaipur. The BJP hopes to get a large chunk of votes from the youth who voted in large numbers for the BJP in the 2013 and 2014 elections.
Shah took questions from youth from Jaipur, Kota, Bhilwara, Jodhpur and Bharatpur.
A participant from Bharatpur district asked about dynastic politics and what was the BJP's agenda for youth.
Shah said the worst example of dynastic politics was seen from a Congress candidate from Rajasthan. "Some of his supporters were chanting slogans of Bharat Mata ki Jai. The candidate stopped a supporter and whispered in his ear and then they started chanting Sonia Gandhi ki Jai. This is the worst example of dynastic politics."
He said those who hesitate to say Bharat Mata ki Jai have no right to partake of food grown on this land.
"BJP made a chaiwala prime minister of the world's largest democracy. Is it possible in the Congress?" he asked.
"I want to tell the youth in Rajasthan that a party which has no internal democracy how can it save the country's democracy. I appeal to the youth that they should give a resounding defeat to the Congress party."
Also Read: Congress rule marked by corruption, nepotism, says Piyush Goyal in Rajasthan
A participant from Bhilwara asked if the BJP was committed to build the Ram temple in Ayodhya. Shah said the BJP is committed to build the temple at the spot where the idol of Lord Ram is situated. He said the BJP is hopeful that the case will be resolved in the supreme court soon.
On GST, Shah admitted that it had caused difficulties to small traders and businesses and said they apologized for it but it would ultimately prove good for the country.
"It's an effort to speed up and take forward the country's economy. had to face difficulties initially. But that difficulty is like the quinine tablet taken to cure Malaria. Ultimately traders will benefit."
"The Modi government has never taken populist decisions, we have taken decisions that are good for the people," he said.
Also Read: Rajasthan CM Raje prevails in fight for minister, it is Yunus Khan vs Pilot in Tonk
Speaking before Shah, chief minister Vasundhara Raje said while the BJP had take steps to eradicate poverty, Congress had given empty slogans. "Congress said the more poverty there is, the more we will benefit, the more votes we will get."
She said in five years of her government Rajasthan had jumped from a Bimaru state to the best performing state in the country.
Both Shah and Raje listed several welfare schemes of the state and central governments such as Ujjwala, housing scheme, toilets, Rajshri, Bhamashah and incentives to students which they said have beneftted the people. Shah said Raje's biggest achievement is that in her government each person in the state has got something from the government.
From Jaipur, Shah left for Bikaner where he held a road show in support of all seven contestants from Bikaner district.
Congress spokesperson Archana Sharma said it is the BJP government that is corrupt and is spreading the "evil of casteism and communalism". She said BJP is promoting dynastic politics and they are doing appeasement by denying tickets to minorities
Personalise your news feed. Follow trending topics