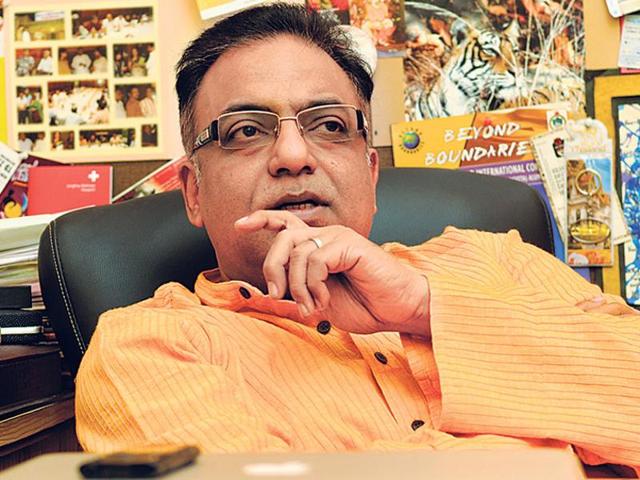 Direction is my priority now, says actor Arindam Sil
From acting to being a line-production man for Bollywood films like Kahaani to now turning a director, Arindam Sil has done it all. His second film Ebar Shabor was a super hit. HT caught up with the actor-director as he begins shooting his first Byomkesh film.
UPDATED ON OCT 02, 2015 02:21 PM IST
Arindam Sil wears many hats. From being an actor to handling line-production for Bollywood films such as Kahaani and Gunday and finally taking up direction, Sil certainly has come a long way. His film, Ebar Shabor, which released in January, is one of the biggest hits of the year and he has been in news ever since he has announced his next project, a Byomkesh Bakshi film starring Abir Chatterjee. Interestingly, he is the only director in the Bengali film industry, to have made films based on two literary characters-Shabor Dasgupta (a detective created by Shirshendu Mukhopadhyay), Byomkesh Bakshi-and will be making a third on Rijuda (an adventure enthusiast, is created by noted author Buddhadeb Guha). HT caught up with the actor-director before he left for Varanasi to shoot for his debut Byomkesh film.
You recently made Swade Ahlade for television and have already announced the cast of your fourth film, Rijuda (based on author Buddhadev Guha's iconic character). You are also shooting for Har Har Byomkesh besides acting in Birsa Dasgupta's Sudhu Tomari Jonno. There's a lot happening in your life.
Yes, there's one thing happening after another. Honestly, I am having no problem multi-tasking because every project at the end of the day is related to cinema. And I understand nothing but cinema. Right now, I am occupied with my Byomkesh Bakshi film. It will be ready by December. Buddhadev Guha recently celebrated his 80th birthday and he wanted to announce the film. I guess I should be making at least two films a year. People in the Bengali film industry are making more than three-four films a year.
Read: Will Abir Chatterjee be Arindam Sil's Byomkesh Bakshi?
Amidst all these, you also find time to travel to different places with your family.
Yes, and I love that. It's like a breath of fresh air. You will never see me at useless adda sessions. I also don't waste time watching television. I manage my time accordingly.
Ebar Shabor has gone onto become one of the biggest hits this year. Do you feel it was the turning point of your career?
I would have been happier had Aborto (2013) been the turning point. I still firmly believe that Aborto was a good film. Those who watched Aborto, loved it. But yes, I agree Ebar Shabor has been my most successful film till date. A film needs to have good content and also generate money at the box office. Ebar Shabor was both a box office winner and got critical acclaim.
Read: It was a challenge to differentiate between Byomkesh and Feluda, says Abir Chatterjee
You introduced detective Shabor Dasgupta on screen with Ebar Shabor and now you are planning to make it a franchise. At the same time, you are also busy adapting Byomkesh Bakshi and Rijuda on screen. Is there tremendous work pressure on you?
No, I am really enjoying things. I am telling a story through a detective and also taking the viewers to a different period. Ebar Shabor was set in contemporary Kolkata. Har Har Byomkesh is set in 1946. Rijuda (to be played by Ritwick Chakraborty), will be set in the jungles of Bihar. So, if you talk about my genre of films, then I would say that all the genres are different. I would never limit them to thriller or murder mysteries.
You must be feeling proud given that you are the only director in Tollywood, who is making films on three popular sleuths from Bengali literature - Byomkesh Bakshi, Rijuda and Shabor Dasgupta.
God has been kind to me and the producers, who want me to direct these films, have shown faith in me.
Abir Chatterjee has played Byomkesh Bakshi in Anjan Dutt's Byomkesh series. He is also playing Feluda, another popular Bengali sleuth, in Sandip Ray's films. What made you rope in Abir to play Byomkesh in your film?
Daniel Crag plays James Bond in the Bond series and he might also play an investigating officer in some other film. We don't have a problem identifying with both the characters on-screen.
But Daniel Crag is not seen playing another popular detective or spy in another series. Abir is part of two franchises, both of which are on popular Bengali sleuths?
One thing is very clear. The audiences in West Bengal accepted Abir as both Byomkesh and Feluda after the two films, Badshahi Angti and Byomkesh Phire Elo, released on the same day. And both the films have been blockbusters. Now, the rights of Feluda and Byomkesh are with the same production house. So, I don't think this production house will release their films simultaneously. If the other directors, who are making films on Byomkesh too, think about the prospect of Bengali film industry, then they should not release their films on the same day.
Now that you are directing films, will acting take a backseat?
I will be seen in Birsa Dasgupta's next but I guess, my primary focus will be on direction.

Close