The flight made an emergency landing at Gujarat's Jamnagar Airport at 9.49pm on Monday.


Updated on Jan 10, 2023 12:22 AM IST
Soon after the threat call, the police was informed by the hotel, following which bomb disposal and dog squads reached the spot and evacuated the area.


Published on Sep 13, 2022 05:14 PM IST
Written by Nisha Anand | Edited by Chandrashekar Srinivasan
According to the officials, the Bomb Disposal Squad thoroughly checked the place and nothing suspicious was found.


Published on Jul 28, 2022 04:01 PM IST
Officers said the discovery has underlined a direct link between the two IEDs and the police are now looking into whether local support was provided to a "Pakistan-influenced terror outfit" that reportedly planned terror strikes across Delhi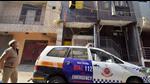 Updated on Feb 19, 2022 01:43 AM IST
The bomb detection and disposal squad of the National Security Guard was called to handle the explosive which safely took out the bag containing the explosive device and removed it from the congested residential neighbourhood in its total containment vessel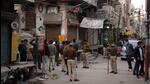 Updated on Feb 18, 2022 01:45 AM IST