A new research has revealed, that increasing the intake of cruciferous vegetables lowers the risk of type 2 diabetes and cancer.

Published on Apr 10, 2023 08:10 AM IST
ANI | | Posted by Tapatrisha Das
, Pennsylvania
Capsicum prices in Chandigarh increased significantly, up from ₹40 per kg to ₹60 per kg, in a month, while Radish went from ₹10 to ₹40 per kg and spinach from ₹20 to ₹30 per kg

Updated on Apr 05, 2023 10:17 AM IST
Broccoli helps to cut risk of cardiovascular issues as it is loaded with fibre and antioxidants. Here are healthy recipes to try this winter season.


Published on Dec 16, 2022 08:12 PM IST
In this video that has been shared on Instagram, one gets to see how a cute Golden Retriever dog has to choose between eating broccoli and celery.

Updated on Oct 10, 2022 10:12 AM IST
Our heart says 'chocolate' but our jeans says 'salad'. The latter need not be boring hence, to brush aside our Monday blues, we are whipping up droolworthy Stir Fried Tofu, Pokchoy and Greens with the recipe inside as it takes only 20 minutes to whip up


Updated on May 23, 2022 04:44 PM IST
If you are looking for a recipe that isn't crazy complicated, search no further as we got you sorted with creamy broccoli cheese soup. Sufficiently green and full of fresh flavour, this one is the velvet of the soup world


Updated on May 31, 2021 08:37 PM IST
We live on good soup, not on fine words and so, this Thursday we are adding all the missing colours to our work day with a bowl of delicious broccoli chickpea soup which aides bone, muscle and skin health. Check out its easy recipe inside that will keep you coming back for more


Updated on May 27, 2021 05:10 PM IST
One-pan of Creamy Chicken and Broccoli Skillet serves as the perfect healthy dinner for the entire family and we are saving it as Monday motivation to take us through the rest of the day. What about you? Check out the flavourful recipe inside


Updated on May 23, 2021 10:36 PM IST
A perfect healthy brunch doesn't exis… oh hello, Broccoli and Cheddar Frittata! What's better than cheddar cheese? Well clearly, it's the super easy recipe of Broccoli and Cheddar Frittata which is loaded with vitamins and minerals. Read health benefits of this scrumptious meal inside


Updated on Feb 24, 2021 11:16 AM IST
Negative calorie food: Eating foods that are low in calorie makes it easier to lose weight. Here are 5 such foods to include in your diet.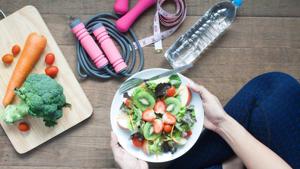 Updated on Sep 24, 2018 11:12 AM IST