From delicious brownies to overloaded chocolate cookies, Check out some mouth-watering baked desserts to fill your home with the comforting aroma of these sweet treats.


Updated on Jan 17, 2023 05:36 PM IST
From avocado cheesecake to gluten-free brownies, check out some healthy and delicious vegan recipes you must try.


Published on Jan 07, 2023 01:10 PM IST
From keto lasagna to chicken curry, check out some mouth-watering and easy-to-make keto-friendly recipes that you must try.


Updated on Jan 05, 2023 12:46 PM IST
Decorated with hot chocolate sauce and choco chips, winter succulent brownies are a delicious way to complement any winter shower or holiday gathering.


Updated on Dec 19, 2022 03:41 AM IST
National Brownie Day is celebrated every year in the United States, the place of its origin, on December 8 and brownie lovers across the country bake this delicious dessert and enjoy it to their heart's content. Here are irresistible brownie recipes you must enjoy on this day.


Updated on Dec 08, 2022 10:38 AM IST
Peanut butter may help with weight loss and boost heart health when eaten in moderation and as part of an overall healthful diet. On that note, check out these lip-smacking recipes of Peanut Butter Brownie, Peanut Butter Smoothie and even Peanut Butter Noodles


Updated on Aug 03, 2022 10:50 AM IST
Here's a super fun recipe of preparing Brownies at home that will curb your dessert cravings without giving you the worry of gaining calories.


Published on Jun 29, 2022 07:05 PM IST
A brownie a day keeps the frownies away so drool over these fudgy brownie bites that are gluten-free and vegan sweet treats, which require no baking. Check out its easy recipe inside


Updated on Jun 02, 2021 04:55 PM IST
Fudgy brownies from chickpeas? Why not! Give your dessert craving a taste of health with this scrumptious and mouthwatering recipe of Chocolate Chip Chickpea Brownies


Updated on May 03, 2021 05:53 PM IST
It's time to add some fresh fruits to our favourite dessert and bake some fudgy chocolate strawberry brownies that taste divine and don't require a lot of effort.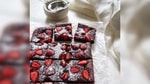 Published on Mar 02, 2021 05:00 PM IST
Who wouldn't love to indulge in the aroma of a whole lot of spice and a deep caramel flavour this Wednesday? If you are already drooling at the thought, here's a recipe of Biscoff Brownie Batter Cookie Cups whose unique taste will surely conquer your drooping mid-week mood


Updated on Feb 24, 2021 08:43 AM IST
Make this Valentine's week special by baking these delicious red velvet brownies that have a twist of chocolate, and satiate your sweet tooth.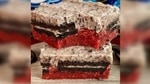 Updated on Feb 06, 2021 04:57 PM IST
If there was only one sweet dish that you could binge eat today, we'd recommend this easy treat of fudgy chocolate peanut butter brownies that are the ultimate show-stopping dessert with an indulgent gooey crust. Check recipe inside with vegan, gluten free, egg free and keto options


Updated on Feb 03, 2021 10:44 AM IST
Excited for Samisha's first Daughters' Day celebrations, Shilpa Shetty Kundra baked gluten-free chocolate brownies for son Viaan to binge all week long and we can't wait to try our hands at her recipe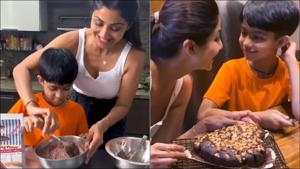 Updated on Sep 25, 2020 05:00 PM IST
Hindustan Times, Delhi |
Zarafshan Shiraz