At a press conference to explain rationale behind the imposition of ban on exports of broken rice, Food Secretary Sudhanshu Pandey pointed out that the paddy acreage is lower by 38 lakh hectare so far this Kharif season because of less rains in many states.

Published on Sep 09, 2022 05:35 PM IST
Most farm operations for the season are over. The June-September monsoon, which waters nearly 50% of the sown area, was highly uneven this year, damaging crops. Several states witnessed flooding, while rice belts in northern and eastern India were mostly dry.

Updated on Sep 04, 2022 04:09 AM IST
The overall monsoon rains in the country were 8% below average in June and 17% above average in July, hence the forecast paints a good picture for the farming sector.


Published on Aug 01, 2022 06:06 PM IST
The Union government did not share estimates of paddy acreage for the second consecutive week, along with cotton, in its weekly update released on Friday.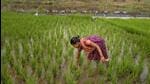 Updated on Jul 30, 2022 02:53 AM IST
In the week ended July 8, rice, the main summer staple, witnessed a worrying 24% drop in acreage over the same period last year, latest available official data shows.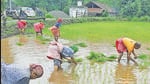 Updated on Jul 13, 2022 03:50 AM IST
Overall kharif sowing was 5% below last year's levels as on July 1, the agriculture ministry's latest available data show. An uneven June-September monsoon, which waters nearly 60% of the country's net-sown area, was 8% deficient in June, despite heavy rains and deadly flooding in some states.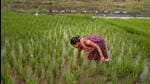 Updated on Jul 07, 2022 03:45 AM IST
While the increase in floor prices ranges between 50-85% over cost of cultivation, the procurement price for the main summer staple paddy (rice) has been raised by ₹100 to ₹2,040 per quintal for the 2022-2023 crop year.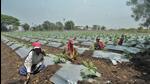 The highest absolute increase in MSP over the previous year has been recommended for sesamum ( ₹523 per quintal), moong ( ₹480 per quintal) and sunflower seed ( ₹385 per quintal), Jaideep Bhatnagar, director, Press Information Bureau, tweeted.

Published on Jun 08, 2022 04:38 PM IST
"The availability of fertilisers in the country is more than the expected demand," an official statement said, quoting Union fertiliser minister Mansukh Mandaviya.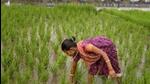 Updated on May 03, 2022 04:07 AM IST
The Union Budget presented on February 1 had pencilled in a subsidy outgo of ₹1.05 lakh crore.

Updated on Apr 28, 2022 06:27 AM IST