Latest from national herald
Shivakumar, who was in Mandya on Thursday for the Congress march, came to Delhi on Friday for questioning in the National Herald money laundering case.


Published on Oct 07, 2022 11:34 AM IST
Officials familiar with the process said the documents at YI office, which could not be reviewed during Monday's raids, were examined on Wednesday.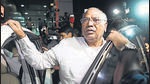 Updated on Aug 05, 2022 02:44 AM IST
In the current monsoon session of Parliament, Union minister of state for finance Pankaj Chaudhary informed the Rajya Sabha that the ED has carried out as many as 3,010 raids in the last eight years, and filed charge sheets in 888 cases, causing the conviction of 23 accused.


Published on Aug 04, 2022 11:18 PM IST
On Thursday, Congress veteran and Leader of Opposition in Rajya Sabha Mallikarjun Kharge said that the ED summoned him at 12.30pm amid the ongoing proceedings of the Parliament monsoon session.

Updated on Aug 04, 2022 09:13 PM IST
Rahul Gandhi said, "We won't get intimidated. I am not scared of Narendra Modi. Have you understood? He can do whatever he wants. It won't make any difference."


Published on Aug 04, 2022 12:59 PM IST