Latest from national war memorial
With Prime Minister Narendra Modi's visit to the National War Memorial, the Republic Day Parade officially began. This year's parade will showcase India's military might and cultural diversity.


Published on Jan 26, 2022 10:13 AM IST
According to the government, the flame at Amar Jawan Jyoti paid tributes to the martyrs of 1971 and other wars, however, none of the names who made that supreme sacrifice for the country were present there.


Updated on Jan 21, 2022 04:14 PM IST
Written by Joydeep Bose
, Hindustan Times, New Delhi
Here are today's top news, analysis, and opinion at 9am. Know all about the latest news and other news updates from Hindustan Times.


Published on Jan 21, 2022 08:59 AM IST
While the Amar Jawan Jyoti was lit in 1972 after the 1971 war, the India Gate honors the soldiers of British Army who fell between 1914-1921. The National War Memorial honors the fallen brave hearts, who fought for independent India against Pakistan, China, Sri Lanka and in counter-terrorist ops.


Published on Jan 21, 2022 07:54 AM IST
The defence ministry has sought the help of the information and broadcasting ministry for the elaborate branding of the National War Memorial, officials said.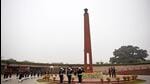 Updated on Jan 21, 2022 05:11 AM IST