The fire that started in a forest across the LoC on Monday spread to the Indian side in the Mendhar sector, they said.

The police said that the vehicle was overloaded beyond its authorized capacity of seven.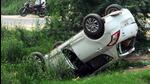 The Jammu and Kashmir Police have said the terrorists were believed to be hiding in the jungles since August this year.

It was a matter of investigation whether they provided food and shelter to the terrorists voluntarily or at gunpoint, an official told news agency PTI.

The JCO and the soldier were killed in the mountainous and forested area in Poonch district of Jammu and Kashmir.