The Indian Railways has, however, continued concession in fare to four categories of persons with disabilities, eleven categories of patients and students.

Published on Jul 20, 2022 08:44 PM IST
Written by Kanishka Singharia | Edited by Sohini Goswami
The New Jalpaiguri-Dhaka Cantonment train, bearing number 13132, will run two days a week, ie on Sunday and Wednesday and for the return journey, train no 13131, Dhaka Cantonment-New Jalpaiguri, Mitali Express will run every Monday and Thursday.

Updated on Jun 01, 2022 08:56 AM IST
ANI | | Posted by Zarafshan Shiraz
, Siliguri (west Bengal) [india]
The matter figured when Bangladesh high commissioner Muhammad Imran met railways minister Ashwini Vaishnaw on Tuesday and discussed various issues related to the railways sector, including development of infrastructure and improvement of capacity of Bangladesh Railways.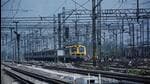 Updated on Feb 16, 2022 03:27 AM IST
The candidates are opposing the railways ministry's decision to hold the exam in two stages, claiming the second stage for final selection is tantamount to "cheating" those who appeared and cleared the first stage of the RRB-NTPC for a computer-based test which was released on January 15.

Updated on Jan 26, 2022 08:42 PM IST
The Union minister's statement comes in the wake of railway job candidates going on a rampage in Bihar, Jharkhand, and Uttar Pradesh over alleged irregularities in examinations of the Railway Recruitment Board (RRB).

Published on Jan 26, 2022 05:32 PM IST
Written by Joydeep Bose | Edited by Sohini Goswami
, Hindustan Times, New Delhi