Latest from tyrion lannister
Peter Dinklage, known for played Tyrion Lannister on the popular HBO show Game of Thrones, put a condition on taking up the role. He had refused to grow a beard for the show as he did not want to become the stereotypical dwarf in a fantasy story.

Updated on Oct 30, 2020 07:23 AM IST
Game of Thrones actor Sophie Turner said that her co-star Kit Harington deserved more money than her, because he had a bigger storyline.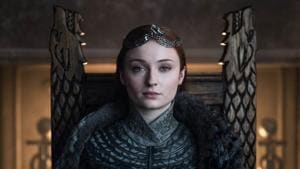 Updated on Jun 23, 2020 07:44 PM IST
Kit Harington has said that he hasn't watched the final season of Game of Thrones, which is how he dealt with the controversy.

Updated on Sep 23, 2019 02:44 PM IST
Charles Dance, who played Tywin Lannister on Game of Thrones, has expressed confusion at the ending of the hit show.

Updated on May 24, 2019 06:03 PM IST
Game of Thrones actors Emilia Clarke, Peter Dinklage, Kit Harington and Gwendoline Christie have defended Daenerys Targaryen's shocking turn in the final season. "The signs were always there," they say.

Updated on May 22, 2019 02:18 PM IST