Karnataka has reported its first case of Zika virus after a five-year-old girl was found infected, health minister K Sudhakar said on Tuesday, adding the government has issued an alert in the state.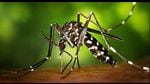 Updated on Dec 14, 2022 04:23 AM IST
A five-year-old girl from Karnataka's Raichur has tested positive for Zika virus, making it the first ever case from the state.


Published on Dec 13, 2022 01:08 PM IST
This chemical concoction appears to draw female Aedes aegypti mosquitoes, carriers of the Zika, chikungunya, dengue, and yellow fever viruses, in particular. This mosquito was first discovered in Africa, but it has since spread to many tropical and subtropical countries, including the United States.


Published on Sep 22, 2022 01:55 PM IST
ANI | | Posted by Tapatrisha Das
, California
World Mosquito Day 2022: Check inside for the list of vector-borne diseases caused by mosquito bite and the type of pathogen that causes the disease in humans.


Updated on Aug 20, 2022 01:38 PM IST
By
Zarafshan Shiraz
, Delhi
The state health department said preventive and control measures in terms of surveillance, vector management, treatment and health education efforts are being undertaken.

Published on Jul 13, 2022 07:17 PM IST